"When life gives you lemons, turn them into an awesome margarita and leave the whole world wondering how you did it"
"Dear Students, we have decided to cancel the physical visit to the West Coast. It was very hard to make this decision after all the work that went into it and the potential benefits to you and our program." My heart sank into my stomach as I read Dr. Chellappa's email. As I sat back in my ride and gazed into the San Francisco cityscape, my mind slowly began to process the ramifications of the message. Little did I know my whole senior second semester was going to be turned on its head.
The West Coast trek has been the most anticipated event of my year of Master of Science in Business Analytics (MSBA) studies at Emory Goizueta Business School. Having grown up on the West Coast and being a huge consumer tech fan, visiting the companies at the heart of innovation in the US was something I have long waited for. To maximize the trip, I even arrived in SF a few days early to visit family and friends, and to have coffee chats with Emory alumni. Sadly, almost as if fate were playing a terrible prank, the trek was canceled while I was on my flight to SF.
West Coast trek goes virtual
Being naturally resourceful and optimistic, I decided to not let despair get the best of me and instead see how I could maximize the options I had. Luckily, MSBA Director of Career Services Renee Bourbeau, who always does a wonderful job, was already working on turning our in-person trek virtual. While not ideal, it was undoubtedly much better than nothing at all. As the COVID-19 conditions were getting worse on the west coast, I decided to return home early. In my remaining one and a half days in SF, I was able to meet up my relatives in the US for the first time ever, visit a high school friend who is building a startup, as well as reconnect with Rohan Bansal BBA19 and Tom Gordon BBA19, who are great friends and even greater mentors.
Ride sharing lessons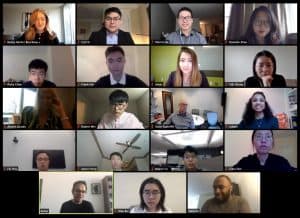 Over the next few days, Renee, with her professional networking wizardry, was able to convert our entire trek into virtual meetings. Monday came in a blink of an eye, and it was time for our first virtual meeting with Uber. Our meeting was hosted by alumnus Shubha Rao MBA13, who is currently the strategy lead at Uber's Customer Experience & Support division. The MSBA students were all able to make meaningful connections with the diverse panel of speakers. We had a wonderful time learning about how Uber leverages the power of data to build predictive models to both better serve its customers and maximize business success. From John Wolter's Analytics & Insights team that develops courier pricing strategy for Uber Eats to Shanshan Gong's US & Canada Community Operations team that focuses on Uber's Customer Support network, the MSBAs on the call all appreciated the opportunity to peer into Uber's internal operations. It was fascinating to see how such an innovative company was able to get the whole world moving.
While some students were still hesitant about the viability of virtual meetings on day one, all doubts were gone after our stellar experience with Uber. Needless to say, all the students were very enthusiastic about our second meeting with Lyft. Rahul Kadian MBA14, who hosted us, certainly lived up to our expectations. The MSBAs had a terrific time learning about Rahul's background, from his consulting days to his current work using data to minimize fraud at Lyft. In Rahul's view, all data analytics are geared towards problem-solving and fall under two categories. On the one hand, you are building algorithmic models, automating, or some other highly technical analytic work. On the other hand, you are modeling decisions, helping make very human decisions that cannot be fully encapsulated by just ones and zeros. In Rahul's words, the true value of our MSBA education is our ability to find that balance between the two extremes. This balance can be drastically different depending on the company, department, and purpose. Regardless of where the final balance lies, performance is ultimately defined by the size of the business impact that the analytical process creates. All the MSBAs present really appreciated Rahul's thoughtful insights and departed the meeting with newfound wisdom.
A towering force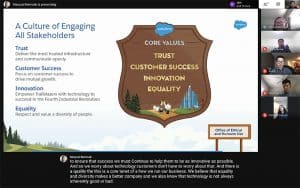 Salesforce's meeting was next, and the streak of terrific sessions continue to hold. Our host, Marysol Nemsak, prepared a fantastic presentation that outlined how Salesforce leverages its suite of tools to service countless crucial companies around the world. It was also a pleasure hearing from Marysol's Salesforce 'Ohana' (Hawaiian for family), who come from different backgrounds but share a wonderful Salesforce family. Jon Fee, the head of Global Marketing at Salesforce, touched upon how Salesforce continuously innovates both organically and inorganically, to maintain its leading positions in the enterprise software solutions space. Others, like Genesis Fleary, highlighted how the Salesforce leadership goes out of their way to connect and listen to all parts of the Salesforce Ohana. Overall, the MSBAs were all impressed by the way Salesforce leverages the power of analytics and data to better service its customers across its entire suite of products and services, and how Salesforce maintains an agile and a flat leadership structure despite its impressive size.
A sweep through Creative Suites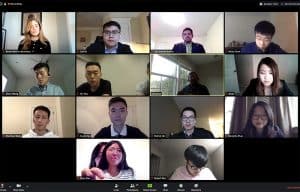 The last meeting on Tuesday was at Adobe, and our host, Satish Mohan MBA10, a director of growth strategy & analytics, was a treat to listen to. As Satish puts it, Adobe is a very data-heavy company that services a very creative client base. As the one-stop solution for all creative needs, Adobe has to continually leverage the power of data to make decisions. With our society becoming increasingly digital, creativity and the means to express it are on the rise. Adobe is very well poised for future success as long as it follows its current data-driven business problem-solving approach. While many other human processes like accounting and stock trading are slowly being replaced by machines, creative work is probably the last thing that computers will ever be able to learn. Lastly, Satish highlighted the importance of building a 'T' shaped skillset, where an individual gains a broad a set of experiences across many domains, but has one specific domain where they have deeply expertise. Overall, the MSBAs present each walked away with their own take on Satish's wisdom, which will undoubtedly serve them well down their career.
Googling Google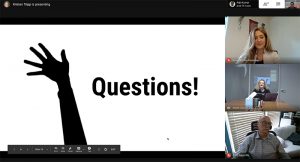 With the dawn of Wednesday, a particular mix of excitement and nervousness hung in the air. After all, we were going to speak with people from Google, one of the largest tech companies in the world. Everyone has heard of how unique yet challenging Google's recruiting process is, so many MSBA students were noticeably tense. However, the tension in the air rapidly dissipated as Kristen Tripp eased us into the conference with an engaging and fun round of introductions. As Kristen broke down the recruiting process and provided personal tips along the way, the MSBAs' analytical side started to take over. We began to see the Google recruiting process as a methodical, challenging, yet rewarding process designed to attract and select the best and brightest from all walks of life. Kristen then invited a panel of data scientists, product strategy and operations managers, and analysts to speak with us, each of whom shared their own journey to their current roles at Google. A common piece of advice from the panelists was to not get discouraged by setbacks. When Lisa Fischer, one of the panelists, first joined Google, she was not sure what she wanted to do or even what team she would be on. The company appealed to her because it provided the opportunities and room for her to grow and integrate into a role that she really liked, whatever it might be. The MSBAs walked away with new insights into Google's culture and its vast array of opportunities, as well as an appreciation for its rigorous recruiting process.
Lessons from a leader in digital transactions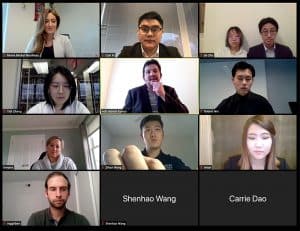 To top off an already excellent Wednesday, we had the privilege of speaking with a panel from PayPal, led by Carrie Dao MBA13. From how Michael Gilbert and his team minimize losses by reducing the risk on PayPal's debit card products to how Christy Lin and her team continuously fight fraud using the power of data, the common theme was leveraging data to minimize loss. As fraud continues to shift from the physical to digital space and drastically increases due to payments becoming more and more fragmented, PayPal continues to invest in being the first line of defense for consumers and businesses in the digital transaction space. PayPal is also heavily invested in the privacy of its clients, especially in the current environment, where data breaches are daily news. The MSBA cohort is very thankful for the panelists' unique insight into the future of digital payment and transaction security and gained appreciation for the analytical work behind this constant fight against fraud and risk.
A SnapChat chat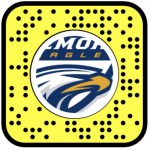 And in a blink of an eye, we reached the final virtual session of the trek. As a longtime fan of consumer tech and the AR space, our meeting with Snap was without a doubt the most fascinating presentation to me. Our host, Alexis Garcia, took us on an engaging Snapchat trip over two-and-a-half hours filled with interactive filters and empowering stories. Alexis started off with a brief introduction and showed us a custom filter created just for Emory. The students and faculty alike had a great time taking silly selfies with the filter. Jean Luo and Pete Horgan then continued the journey with their introduction into the work of product managers at Snap. The constant interaction with various other teams and the ability to fully own a feature are highlights of the product manager internship position and really show the care and thoughtfulness Snap puts into fostering future talent. Next was a crash course on how Snap leverages the power of data science for all of its departments, whether it's for improving revenue, helping to make product decisions or understanding consumer insights. These uses are all too familiar to the MSBA cohort, who have spent the past nine months working on numerous analytical projects across all disciplines and on a wide variety of business problems. We then had an opportunity to speak with Jeff Miller MBA10, a well-known Emory alum and a creative visionary at Snap. He took us through a magical journey, from how he gave life to the Taj Mahal with vibrant colors and humorous animations through one of SnapChat's Landmarker filters during his trip to India, all the way to the touching story of how his team partnered with Glade to create new filters for use by women who wear traditional dress that obscures everything but their eyes. Finally, Jeff described Snap's culture of willingness to make educated bets on the future, gaming, augmented reality, and content and not being afraid to innovate and try themes I strongly resonate with on a personal level. The presentation then passed onto Laila Forghani and Ryan McDaniel, recruiters for Snap, who spoke about the full range of upcoming opportunities at Snaps and how we, as MSBAs, can leverage our diverse backgrounds and skillsets in both business and technical positions. Lastly, Alexis concluded our meeting with a fast-paced game of trivia. Luckily, the questions all revolved around Snap and the presentation, and were right up my alley thanks to my inherent interest in Snap and augmented reality. As if the day couldn't get any better, I won first place and, beyond my wildest dreams, won a pair of Spectacles.
This is a story of how the MSBA cohort and its program office were able to make the best of an unfortunate event and enjoy a magical week of virtual dates with some of the leading tech companies on the West Coast. Disney, Riot Games, and Live Nation were unfortunately rescheduled due to bad timing and the growing Coronavirus pandemic, but I am sure those meetings will be just as stellar. Staying optimistic and using all the resources available to make the best of any situation is an important skill, and something I strive to practice in any undesirable scenario. This is especially important now that the remainder of our semester has turned digital, and social distancing is encouraged. When lost, stay positive, keep your eyes on the future, and keep walking. You will either find a new path or be the trailblazer that many others follow.
When life gives you lemons, turn them into an awesome margarita and leave the whole world wondering how you did it.
Dr. Ram Chellappa, Renee Bourbeau and the MSBA Program Office wish to also thank Julie R. Barefoot, Associate Dean of Engagement & Partnerships and Aditya Rao, President of the Goizueta Alumni Board, for their collaboration and special partnership.