One-Year MBA Profile Featuring Alanna Holman
We asked a few of our One-Year MBA current students to blog regularly in order to provide a snapshot of their Goizueta experience over the course of one year. Meet Alanna Holman 16MBA.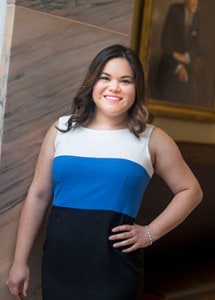 Name: Alanna Holman
Class Year: 2016
Concentration: Operations Management
Previous Employer & Position: Consultant, Tribridge
Undergraduate Institution & Major: Florida State University, B.S. Finance and B.S. Management Information Systems
Why I chose Goizueta: I chose to pursue a MBA to boost my business acumen and help me transition to my next role.  I specifically sought out a one-year MBA program because I had the undergraduate business foundation and years of experience.  Not only do I spend less time away from working, but also I receive the same quality education as a two-year program.  I chose Goizueta because of the emphasis on teamwork and community.  From my first conversations, I knew I would be a valued team member, and the intimate learning environment enforces that.  In addition, Atlanta is a city where I want to live.  Another big factor was the high employment rate after graduation.  Those numbers and the stories of alumni success exemplify that I am receiving a world-class education.  The Goizueta classroom emulates the challenges I will face in my career.