One-Year MBA Profile Featuring Amanda Lintelman
We asked a few of our One-Year MBA current students to blog regularly in order to provide a snapshot of their Goizueta experience over the course of one year. Meet Amanda Lintelman 16MBA.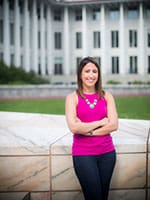 Name: Amanda Lintelman
Class Year: 2016
Concentration: Consulting
Previous Employer & Position: Senior Consultant, IBM
Undergraduate Institution & Major: The George Washington University, BS Economics & BA Spanish Language and Literature
Why I chose Goizueta: I chose Goizueta for number of reasons. First, the one year program was very attractive to me as a non-career switcher. I knew exactly what I was returning to school to do: accelerate the progression of my career in consulting. This would allow me to be away from the work force and my peers for the least the amount of time and return with high caliber skills. Second, the small class size. I wanted to get to know all of my classmates on a personal level. The opportunity to do that over the summer is unique and will create bonds that will endure. Third, the community at Goizueta is incomparable. The community at this school is strong and welcoming; it is evident to prospective students, and embodied by Goizueta MBAs in all of their actions.