Road Tripping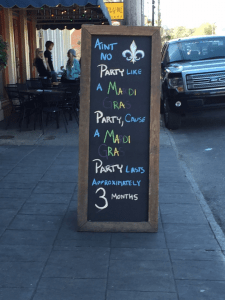 "We don't hide the crazy, we parade it down the street." – Anonymous
Dean Brian frequently mentions the value proposition of Goizueta Business School: World class academics, intimate learning environment, and location in a dynamic, global city. One of the perks of being located in Atlanta is that there are many cities in the southeastern United States within driving distance of school. One such city is New Orleans, Louisiana; home to the biggest and best Mardi Gras celebration. The last time I was in New Orleans was after Hurricane Katrina hit the city in August 2005. Before I graduate, I wanted to see the city on a high note rather than the somber setting I experienced over 10 years ago. With one of our classmates organizing the trip because he is from New Orleans, we set off on a Thursday afternoon to experience Mardi Gras in-person.
Parades, Parades, and More Parades
The parades are on a different level than anything I've ever experienced in my life. During the weekend, parades would start in the morning and go all day and all night. Whether it was a marching band, a decadent float, or these guys rolling down the street in decked out recliners, we were always entertained. My classmate and his wife were our personal guides around the city and showed us where to go to have a great time. If you ever have the opportunity to visit New Orleans, especially during Mardi Gras, I highly recommend taking the opportunity to do so.
New Orleans is just one of the many locations within six hours of Atlanta. Here are five more that I highly recommend you explore while attending school at GBS:
Nashville — The home of country music and one of the most fun cities in the south; the nickname "NashVegas" is appropriate given the nightlife and wide range of activities available
Jacksonville — If you have to take one road trip for a football game, I strongly recommend attending the Georgia-Florida (or Florida-Georgia) football game that's held the last week in October every year; there is a reason why it has the title of the largest outdoor cocktail party
Savannah — Located several hours away from Atlanta, this captures southern charm on the coast; if you're feeling adventurous, try visiting during St. Patrick's Day
Asheville — Another 3-4 hour drive north leads to Asheville, home of the Biltmore Mansion and countless restaurants; there is a city ordinance that prohibits franchise in the downtown area, resulting in amazing local food and beverages
Charleston — My home-away-from-home, this city is 5-6 hours away, but worth the trip for the food; walk up and down King Street on a given night for a fantastic evening in a town recently ranked as the #1 Reader's Choice City in the US for the fourth year in a row