2023 Best & Brightest Business Major: Nicholas Trimble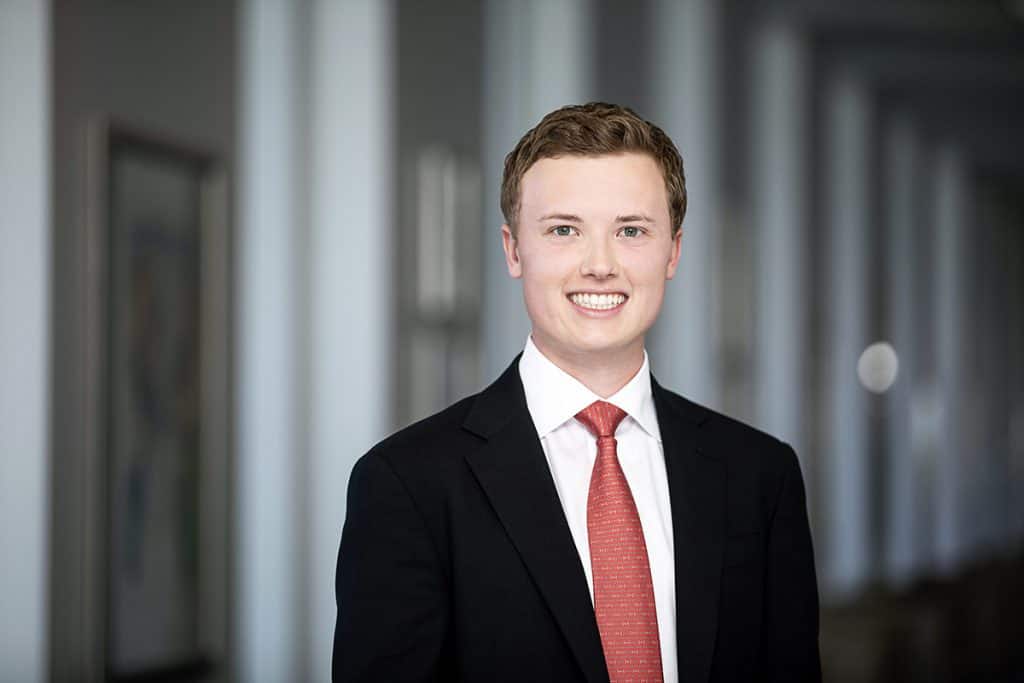 Nicholas Trimble
Emory University
Goizueta Business School
"An old-souled 21-year-old."
Fun fact about yourself: I've never had a peanut butter & jelly sandwich!
Hometown: San Diego, California
High School: Francis Parker School
Major: Finance and Entrepreneurship
Favorite Business Courses:
Venture Capital and Private Equity
Entrepreneurial Practicum
Corporate Strategy
Business Law
Extracurricular Activities, Community Work and Leadership Roles During College:
Emory Center for Alternative Investments: BBA President
Goizueta Finance Group: President
Goizueta Investment Management Group: Co-President
Teaching Assistant (Entrepreneurial Private Equity, Venture Capital & Private Equity, Entrepreneurial Practicum, Intermediate Microeconomics)
Goizueta Venture Capital: Co-Founder and Co-President
Career Management Center: Lead Coach
Venture Capital Investment Competition: Chair
Emory Alternatives Trek: Chair
Emory Club Golf
Where have you interned during your college career?
Centerview Partners (Palo Alto): Investment Banking Summer Analyst
Accel-KKR (Menlo Park): Technology Investor
JMI Equity (Baltimore): Summer Analyst
TI Partners (Atlanta): Investment Banking Intern
Qualcomm (San Diego): Strategy, M&A, and Ventures Summer Analyst
Where will you be working after graduation? I am excited to return as an Investment Banking analyst at Centerview Partners in Palo Alto, California working with executives, companies, and investors across the technology industry.
Who is your favorite business professor? When making my decision to attend Emory University, I was drawn to the student feedback on the approachability of the faculty and their commitment to student success. During the past four years, Dr. Klaas Baks has had a considerable and meaningful impact on my personal and professional growth. After meeting freshman year Fall semester, Dr. Baks quickly demonstrated profound trust, enthusiasm, and confidence in my abilities before I even understood my skills or greater purpose. From the onset, the mutual respect between us greatly empowered me when I was entrusted with leading the Emory Center for Alternative Investments as the sole BBA among MBA students at the time. While I have developed countless tangible, academic skills from Dr. Baks' courses on investing and entrepreneurship, the intangible life lessons are what I will hold with me throughout my career: respect your talents enough to follow the uncharted or nontraditional path, identify meaningful mentors, and be humble enough to respect and consider others' opinions.
What advice would you give to a student looking to major in a business-related field? Studying business is not linear. The people you meet and relationships you build will ultimately open doors that may have previously seemed impossible. Majoring in an undergraduate business program will introduce you to the fundamentals of running or managing within a company, but you will also be exposed to equally important skills like networking and public speaking which are critical in the "real world" beyond college. It takes time and practice to create a polish around your persona. Stay focused and persevere through the challenges as the extra effort now will pay dividends in the future.
What has surprised you most about majoring in business? Goizueta is incredibly unique in that there is little separation between the BBA and MBA programs. I never expected as a sophomore to be leading meetings that included only MBA students or hosting MBA students from top programs across the country for the regional finals of the Venture Capital Investment Competition. I learned how to lead a Zoom meeting through unique interruptions like crying baby noises in the background – another surprise in my business education! These experiences broadened my perspective on business careers while also teaching me how to garner the respect of peers much older than me.
What business leader do you admire most? As an avid Squawk Box viewer and daily Twitter user, I follow a diverse and expansive group of CEOs and corporate leaders. One commonality amongst all business leaders is that they have the platform and ability to invest their time and capital to make a tangible impact on the community. Rick Rieder, BlackRock's Global Head of Fixed Income and a Goizueta alumnus, is one exemplary example as he continues to focus his philanthropic efforts on solving the current financial literacy crisis. By working with Rick through my role in leading the Goizueta Investment Management Group (GIMG) – an organization he founded in 2011 – I have come to appreciate his authenticity and honesty in providing feedback on our team's long-term vision and plans. GIMG serves the greater-Atlanta community by volunteering with underprivileged middle and high school students to teach basic financial literacy lessons such as interest rates, savings vs. checking accounts. I am very grateful for the opportunity to have come to know and respect Rick for his desire to help students but also those less fortunate in our community.
Which academic, extracurricular, or personal achievement are you most proud of? I want to be remembered for being a consistent and authentic leader, team member, and mentor to underclassmen BBA students. From my various on-campus involvements, my team and I prioritized making opportunities accessible to all students to encourage and inspire more students to explore unique career paths outside of the most common: investment banking and consulting. I was fortunate to have several mentors as I explored and tried to better understand various career paths, and in turn, I am most proud that I am now able to have a similar positive impact on my peers.
Which classmate do you most admire? Numerous peers and recent alumni have impacted my Emory experience by encouraging me to grow both professionally and personally. I would like to specifically recognize Michelle He – a 2022 Best & Brightest recipient and my close friend, mentor, and future colleague – who continually motivates me with her drive, focus, and commitment to improving the experience for future BBAs. Coming into Emory, I was interested in pursuing both entrepreneurship and finance without knowing how the two linked together. Through our work in founding a hands-on initiative for students interested in venture capital, Michelle advised me on various career paths and opportunities where I could engage in the visionary, operations-focused work of entrepreneurship with the quantitative and research-intensive skills required in finance. My Emory experience and future career endeavors would look tremendously different if I did not have the opportunity to learn and benefit from Michelle's wisdom, kindness, and business acumen.
Who would you most want to thank for your success? I am fortunate to be surrounded by a deeply caring and continually present family. And while it has truly been a team effort in my journey so far, my mother continues to help shape how I view the world, treat others, and approach my work. As a female corporate executive, she prioritizes and advocates for improving access to women interested in STEM careers while also demonstrating great resolve in her personal life as she conquers any challenges she faces. Growing up, I had the best role-model I could wish for by seeing how you can simultaneously combine an unparalleled work ethic and selfless personality to be successful in both your career and life.
What are the top two items on your professional bucket list?
Become the principal owner of a Major League Baseball team
Serve as the Treasury Secretary
What are your hobbies? I am a competitive golfer, expert skier, and avid San Diego Padres fan who also enjoys exploring contemporary art galleries and omakase sushi restaurants.
Interested in exploring Full-Time MBA opportunities? Learn more about Goizueta's Full-Time MBA program.
Article first published in Poets&Quants.