Five ways Goizueta helps you navigate the job application process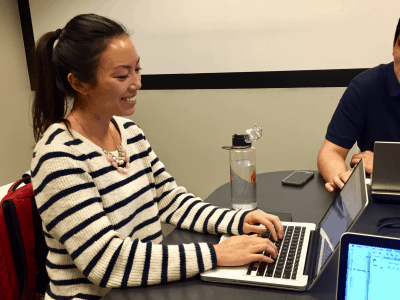 Many people choose to pursue their MBA because they want to make a pivot in their career. If you are one of those people, one of your top priorities in school is making sure you find the right job you want to move to next. Goizueta helps you find the right opportunity and gives you a big boost in the application process.
They will provide you with:
Career Coaches. From before the first class ever starts, you will be assigned a coach from the Career Management Center who will get to know you as a person, walk you through fundamentals like building your resume and help you create a plan.
Company Visits. Companies from a wide range of sectors come onto campus to present about their companies and meet prospective applicants. These visits are a great opportunity to gauge your own interest and also learn what matters to the company in applications. There is also an event every year with dozens of companies hosted by the school at the Georgia Aquarium, which provides additional networking opportunities and great views of the shark tank.
Goizueta Career Portal. Companies respect the talent they see coming out of Goizueta and often submit openings for jobs directly onto an internal Goizueta website. Students can apply directly through postings on that site. It's a great way to get your resume noticed.
Alumni Network. There are Goizueta alumni everywhere, and I have always found them to be very responsive and a great source of information from inside a company I'm potentially interested in. They can walk you through the things that will matter in your application.
Peers. From clubs like the Goizueta Marketing Association to my roommate, perhaps one of the greatest aids in my own job search has been my classmates. They share opportunities, look over my cover letters and give advice from their own experiences. At Emory, we work together to secure the jobs we want, and it helps ensure the whole class succeeds.