Goizueta's 3rd Annual Business Analytics Conference demonstrates virtually anything is possible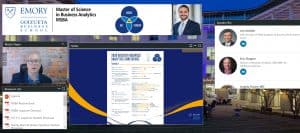 The Goizueta Business Analytics conference is one of the most awaited events of the year for MSBA students, staff and graduates. It marks the culmination of the rigorous 10-month program focused on producing industry-ready business data scientists. It is a great opportunity for the MSBA cohort to present the findings of their capstone projects and learn from industry experts about developments in the analytics and data science industry. This year's conference was a special one since it was completely virtual due to the COVID-19 pandemic. Quite fittingly, this year's theme was "How Business Analytics has helped organizations adapt to the COVID-19 pandemic."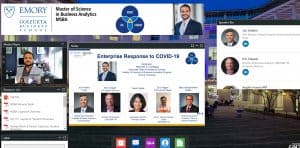 Our esteemed dean, Dr. Ram Chellappa, welcomed all our guests to the conference, introduced the MSBA program and described the relevance of the conference in these challenging times. Scott Radcliffe, managing director of our program introduced the speakers, agenda and logistics for the conference. This year's conference featured 11 industry professionals who spoke on how enterprise companies and sectors are dealing with the current pandemic using business analytics.
Our first speaker, Dr. Aleksander Lazarevic, vice president of advanced analytics and data engineering at Stanley Black & Decker spoke about "the role of advanced analytics in better organization planning around COVID-19." It was fantastic to see how the trends and forecasts for COVID-19 were analyzed and interpreted from his point of view. His observation that, "all models are wrong, but some are useful" highlighted what we've learned multiple times in class – it is important to consider and understand statistics in the proper business context. He went on to highlight how new online trends that were a result of the pandemic were affecting different product categories at Stanley Black & Decker.
Our student team then got the chance to present their capstone project work "Using digital customer feedback for analysis of brands, products and features" that they created for Stanley Black & Decker. Their text mining models were able to assimilate huge datasets of product reviews and provide relevant insights and user sentiments towards certain products and categories to drive business value. This team consisted of: Stella Guo, Mayur Kumar, Anuraaj Sonawala and Robert Wei.
MSBA Director of Admissions Allison Jacobs, who spoke next, has been part of the MSBA program from its inception. She screens more than 800 applications every year to pick the brightest prospects from all over the world with backgrounds as diverse as liberal arts to engineering. She said the best part of her job is seeing how these students evolve into business data scientists through the 10-month MSBA journey.
We then got the opportunity to hear from a panel of experts consisting of Jon Ambler, senior vice president and director of retail analytics and business at Truist, Neeti Gupta – business analytics thought leader, Eric Hagen 06BBA, senior director supply chain at The Home Depot, Bala Vaidyanathan, director of advanced analytics and industry research at FedEx, and Eric Clepper 02MBA, director of analytics at US Xpress Ventures on "Enterprise response to COVID-19." It was interesting to hear how the current situation is driving digital transformation in a lot of the companies. They went on to discuss how analytics is helping identify the new opportunity areas and the ability to combine existing models and business strategy to adjust to changing times.
Our second speaker, Yaron Haviv, founder and CTO of Iguazio gave a talk on "MLOps in the times of Coronavirus." He began by describing how analytics has matured moving from BI to AI to proactive business value driven machine learning. He highlighted how current predictive models had to be tweaked given the massive change in trends and preferences among consumers in the pandemic situation. He also underlined the importance of building and optimizing machine learning models with a consideration of real-world data sets to make sure models do not fail in production environments.
Christine Battle, associate director of student services for MSBA spoke about how she works with the MSBA cohort and the university to make sure the students have a smooth and enjoyable experience at school. She is the touch point for all student services-related activities and holds regular meetings with students to hear them out and address any queries.
Our second student showcase, "Resource allocation through pothole predictions" for ATL 311 – City of Atlanta addressed how students combined client data with publicly available data like weather forecasts to predict by geography possible pothole filling requests. This would give the service team a proactive way to allocate their resources to provide better service to the residents of Atlanta. This team consisted of: Dipeeka Bastola, Susie Bai, Fei Hou and Alex Yang.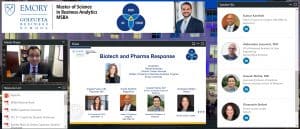 We then heard from healthcare industry professionals, including Angela Fusaro M.D. 17MBA, cofounder and CEO at Physician 360, Kumar Kantheti 02MBA, head of customer insights at Regeneron, Aneesh Mehta M.D., associate professor of medicine at Emory School of Medicine, Dinamarie Stefani, global quality leader at Abbott on "Biotech and pharma response to COVID-19." It was inspiring to hear how each of these companies were using data and analytics to come up with probability-based estimates to help speed up testing and vaccination development for COVID-19. The panel was moderated by Director of Career Services at MSBA Renee Bourbeau.
Renee also spoke about how she helps groom students for data science careers. She brings her tremendous industry experience and connections to help the MSBA students ace the interview process and land their dream jobs.
The conference concluded with the final student showcase "Claim Loss Reserve Prediction" for our capstone partner Cogitate. This project was great example of applying analytics in the insurance space. The student team tackled a difficult challenge: they used machine learning models to incorporate accident attributes to make more accurate predictions on claim cost and in turn improve financial statement forecasting. This team consisted of: Daniel Byun, Ricky Chen, Jayson Faulds and May Shao.
Overall, the virtual conference was a great opportunity for students and guests to learn about the transformational work through the MSBA capstone projects and understand from industry professionals about cutting edge analytics in the enterprise to quickly adjust to dynamically changing environment around us. I eagerly look forward to attending next year's conference, hopefully at the business school.