Lauren Elliott: "Real Humans of Goizueta's MBA Class of 2024"
Looking to get an inside look at Goizueta's MBA Class of 2024? Check out Clear Admit's "Real Humans of Emory Goizueta MBA Class of 2024" article for personal insights from current students on their backgrounds, motivations, and experiences in the program. Get a feel for what it's really like to be a part of this dynamic community!
Meet Lauren Elliott 24MBA
Age: 25
Hometown: Grayson, Georgia (about an hour northeast of Atlanta)
Undergraduate Institution and Major: Georgia State University, Bachelors of Biological Science
Pre-MBA Work Experience (years, industry): 7 years in pre-hospital emergency medicine in both private EMS and county fire department
Why did you make the decision to attend business school? Why now?
I really enjoyed the work I was involved with and the wonderful coworkers I was fortunate to meet, but I knew early on that I wanted to do something more. Something that I felt would challenge my mind more. Don't get me wrong, my previous career absolutely challenged me and made me think on my toes, but I didn't feel stimulated enough. I love working in stressful and fast-paced environments and throughout my undergraduate experience I enjoyed working with numbers. I realized that I could leverage all those skills in the business space which led me to business school.
Why did you choose Emory University's Goizueta Business School? What factors figured most prominently into your decision of where to attend?
I chose Goizueta for multiple reasons. The proximity to my home and my family was a very important consideration as my family is my greatest support system. I was also drawn to the small by design class sizes. I learn best by interaction and practice so having small classes allows to me get involved in class and make long term connections with students and professors. One final consideration when applying to Emory University was the diversity of the program. Being a female who spent the past 7 years in a predominately male industry, I was thrilled to see inclusion at Emory. Diversity goes beyond gender and race as well. There is such a wide diversity of backgrounds among the students and staff, and everyone is different. There is so much to learn and so many new cultures, it's a wholesome experience.
What do you think is your most valuable or differentiating contribution to the Class of 2024?
My most valuable contribution to the Class of 2024 is my drive. I have goals and I will do whatever I can in my power to achieve those goals. I strive to be the best that I can be and I want to contribute as much effort as I can to my work, education, and personal goals.
Tell us a fun fact about yourself that didn't get included on your application:
A fun fact about me is that I love to kayak. Being on the water is so peaceful and being able to share that with friends and even my dog is such a wholesome feeling.
Post-MBA career interests:
Post-MBA I aspire to work in investment banking.
Advice for Current Prospective Applicants:
What is one thing you would absolutely do again as part of your application process?
Emory offers a program to applicants called "Getting it Done 101" which I would absolutely recommend to anyone considering applying. A group of admissions staff break down each step of the application and process. It made a very overwhelming task feel a lot more manageable.
What is one thing you would change or do differently?
I made my decision to apply to Goizueta very late in the application timeframe which made the process feel rushed. I felt like if I would have made the decision to apply sooner, I would have felt a lot less stressed about the process and would have been able to break down the application and all of its components into smaller, more manageable portions.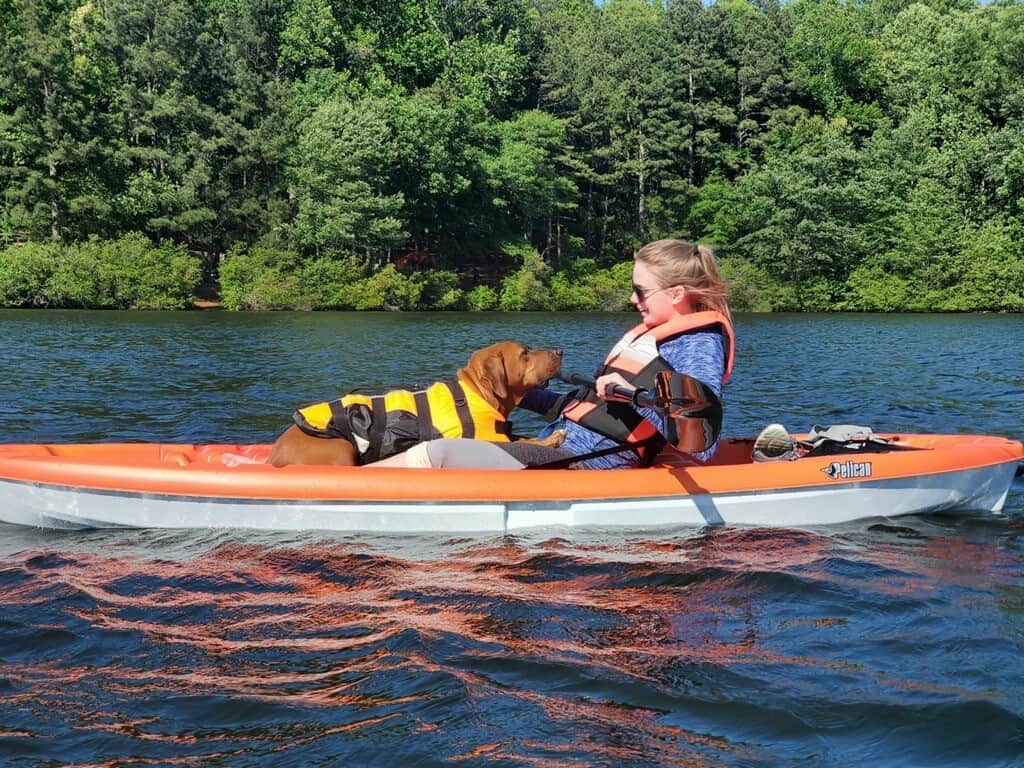 What is one part you would have skipped if you could—and what helped you get through it?
The one part of the application process I WISH I could have skipped was the essays. Essays have always seemed daunting to me, and I knew my essays would go against many other eloquently prepared essays. In my mind, there was no way I could compare to those essays. I sat down one night and imagined me in the place that I was to be post-graduation and told myself that these essays are the only thing that is currently holding me back. What would make my essays stand out from the rest? I had a story to tell and I told that story. When I think about writing my story instead of writing a graduate school admissions essay, the task is immediately less daunting.
What is your initial impression of the Goizueta students/culture/community?
My initial impression of Goizueta was how supportive and caring the students are. Everyone wants to be everyone's friend and with the small by design classes, we are able to achieve that.
What is one thing you have learned about Goizueta that has surprised you?
I knew Emory offered many opportunities, but I am surprised by just how many. Goizueta ensures that everyone has the experiences they need to have the best education. Emory takes the MBA experience beyond the core subjects like finance, accounting, economics, and marketing to include other valuable experiences such as leadership development, programs with the Career Management Center to ensure we are prepared for networking and applications, global experiences, and so much more. Goizueta ensures that you will not only have the basic skills needed to succeed in a business career, but also have the qualities that are needed to make yourself the best person you can be.
What is one thing you are most anxious about in your first year?
One thing I am anxious about for my first year is networking. I am shy and tend to keep to myself so this will definitely be a challenge, but I am ready for it. In my first month at Emory, I have made many efforts to step out of my comfort zone by running for Academic Council, attending Emory's social events, and beginning to network within my cohort as well as other cohorts in the Goizuetta community. Even though this is going to be a challenge for me, I am looking forward to overcoming it and in the process, bettering myself.
What is one thing you are most excited about in your first year?
I am very excited to expand my knowledge to better understand what is going on in the world. Just in this first month at Emory, we have learned so many topics with real-world applications and it is fascinating to know that what we are learning is applicable.
Has the COVID-19 pandemic affected your personal application or admissions process in any way? If so, how?
I was hesitant to apply to business school during the pandemic due to the dire need of healthcare workers. While most people transitioned to working from home, healthcare providers were in high demand. I felt like the time was not right for me to begin my career pivot while my community was desperate for my service. Once COVID restrictions began waning, I applied to Goizueta.
Interested in exploring Full-Time MBA opportunities? Learn more about Goizueta's Full-Time MBA program.
Article first published in Clear Admit.