One-Year MBA Veteran Reflection at Graduation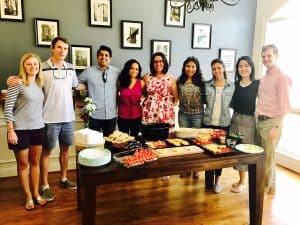 Pictured: One Year MBA students at Jennifer's (5th from left) housewarming
Submitted by Jennifer Kraus, One Year MBA 2017 and Army veteran
Only a year ago, I moved to Atlanta and was preparing to start the One Year MBA program at Goizueta. Now, I am in the last week of classes, counting down to graduation, and preparing to start as a global business manager at Wipro this summer.
The year has been a whirlwind – I had a general idea of what I wanted to do when I came to pursue my MBA but this year has helped me more closely define my business interests, and has exposed me to amazing opportunities. I spent ten days in Israel at the end of winter break participating in a three-credit short course through Collier's School of Management at Tel Aviv University.  Along with 31 classmates, I toured several national and international businesses and learned more about China during a mid-semester module to Beijing, Nanjing and Shanghai, which I followed up with quick visits to Seoul, South Korea, and Kyoto, Japan.  In only a few months, I will be training with my Wipro Global 100 cohort in India and working internationally.
Even with all this past and future travel which I am incredibly excited about, I have also finally set down physical roots, recently purchasing a townhome with the assistance of a member of the Goizueta family. Atlanta has turned out to be a very fun city with great food and cultural venues, and many of my classmates are also remaining in the area.  I am involved in the Goizueta community, and can't wait to continue to give back to the school as part of the alumni network and help incoming students in future years as they begin their new careers.  I think many veterans joined the military to serve and to be a part of something bigger than themselves, and thanks to my connection with Goizueta, I feel like I will be able to continue to do that even outside of the Army.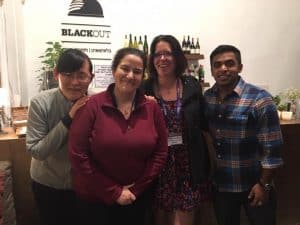 Pictured: Jen (third from left) at Tel Aviv's Blackout Restaurant with MBAs from other schools