Veteran Spotlight: Jack Sheng 22MBA, United States Air Force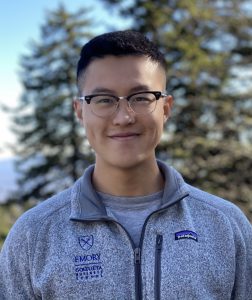 Background: I am from Conway, Arkansas, and after a brief stint in the United States Air Force, graduated with a degree in Business Administration from the University of Central Arkansas. After college, I relocated to Baltimore, Maryland, and began a career as an Investment Specialist with Merrill Lynch where I got my Series 7 and 66 licenses. Following that, I received an offer from T. Rowe Price to work with High-Networth Clients as a Retirement Consultant, where my job revolved advising clients on retirement asset strategy and financial management.
Why Goizueta: Coming into business school, I was unsure about whether I wanted to pursue Investment Banking or Consulting. However, I knew that regardless of what I chose, there would be an alumni network that I could reach out to for guidance and advice. The close-knit community and the small class sizes lends itself to a more personal relationship with classmates and faculty that I truly value. It also doesn't hurt that Emory University is located on the outskirts of Metro Atlanta and allows me the luxury of living within reasonable financial means while still having a nightlife.
Career Goals: Working with individual clients has been extremely rewarding but I've always wanted to broaden my scope and provide advice on an industry level. Through speaking with ex-bankers, I understood the value add that coverage bankers provide in bridging the knowledge gap between companies and industry dynamics, through quality M&A strategy and balance sheet financing. Being a strategic advisor and having a macro-economic impact is extremely appealing to me. This summer I am working in Investment Banking at RBC Capital Markets, covering Consumer & Retail. I plan on continuing to work in banking post-MBA as well.
Hobbies/Other Interests: In my free time, I enjoy outdoor activities such as hiking, camping and rafting. I am an avid weightlifter and at this point cannot function without a scoop of pre-workout and a Bang Energy drink. Additionally, I enjoy road tripping and playing tennis at a first grade level.
Check out more veteran spotlights and learn more about Goizueta Business School's MBA program for veterans.