Veteran Spotlight: James Rhodes 22MBA, United States Army, Intelligence Officer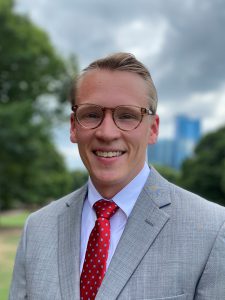 Background: Prior to business school, I was an Intelligence Officer in the United States Army, where I led teams of analysts to solve complex problems including various process improvement initiatives as well as NATO contingency planning.
Why Goizueta: I chose Goizueta Business School because of the career opportunities and the culture. Goizueta is a tight-knit community where everybody knows each other. This supportive culture is exactly what I needed as I exited the military.
Career Goals: I've concentrated in finance and strategy. I recruited for consulting because I wanted to take what I loved about being an intelligence officer, team leadership and advising senior leaders on complex problems, and apply it to a civilian career. I spent this summer at a boutique management consulting firm, Insight Sourcing Group (ISG). ISG focuses on cost optimization and procurement.
Hobbies/Other Interests: I spend my free time walking my border collie Sullivan, hanging out with my wife Sarah, and meeting friends on the Beltline. I also enjoy the occasional woodworking project.
Check out more veteran spotlights and learn more about Goizueta Business School's MBA program for veterans.