2023 Best & Brightest MBA: Madeline Davis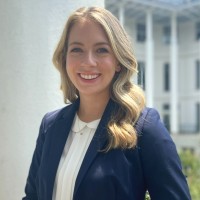 Madeline Davis
Emory University
Goizueta Business School
"Daughter, sister, friend – I set high expectations but never take myself too seriously (except when I do!)."
Hometown: Peachtree City, GA
Fun fact about yourself: I drove a golf cart to high school. Also, I hate fun facts
Undergraduate School and Degree: The University of Georgia, BBA – Finance
Where was the last place you worked before enrolling in business school? EY, Manager – People Advisory Services
Where did you intern during the summer of 2022? Bain & Company, Atlanta
Where will you be working after graduation? Bain & Company, Atlanta
Community Work and Leadership Roles in Business School:
Goizueta Business Association – VP of Career Development
Goizueta Consulting Association – VP of Firm Insights
Core Values Award Winner – Rigor
Dean's List (3)
Teaching Assistant (3) – Economics, Finance and Accounting
Forte Fellow
Delta Leadership Coaching Fellow
Matthews Scholarship Recipient
Roberto C. Goizueta Scholarship Recipient
Summer KEGS
Goizueta Gives Volunteer
Day 1 Challenge Winner
Which academic or extracurricular achievement are you most proud of during business school? 
In my role as VP of Firm Insights for Goizueta Consulting Association, I had the opportunity to create and issue a school-wide survey to gain insights about the consulting recruiting experience. By collecting this information from my peers, my goal was to dispel a few rumors about MBA consulting recruiting – namely, that there is a "magical number" of coffee chats, a specific GMAT score, or undergraduate GPA that will land you a consulting job. I collected confidential data from more than 50 percent of my classmates regarding their coffee chats at each firm, number of cases completed, and admissions scores. In the end, I was able to prove that these rumors are in fact myths – there was no clear evidence that any one thing assured someone a particular consulting job. This was such an important insight because it helps break down the barriers to consulting recruiting; those individuals who might self-select out of the process for fear of not meeting all the "requirements" now have better information. It's proof that firms are looking to hire well-rounded candidates as opposed to ones who fit a certain mold.
What achievement are you most proud of in your professional career? 
In the beginning of 2020, I was leading a nationwide change management initiative for a large telecommunications provider, when suddenly, I had to redesign our previously hands-on, in-person training and communications strategy to effectively engage and prepare 3,000 users across 6 regions remotely. To do so, I developed a virtual deployment playbook, led a team of client change leads to redesign their training sessions to be more interactive, and designed a communications strategy to creatively engage users and company executives. With this new approach, not only did we successfully deploy the tool, but my team received praise from the field. The Chief Technology Officer even stated that this was the most seamless change management effort he had seen at the company. I also received an award for Outstanding Achievement in Change Management from EY. More than these results, however, I learned how a leader must be flexible and able to pivot quickly when facing a challenge. I also realized the long-standing legacy one's work can have as the client now has a dynamic change strategy to help them better navigate large transformations long after my team has left.
Why did you choose Goizueta Business School? 
I grew up in the Atlanta area, and both of my parents spent their careers at major Atlanta companies – it's home. After living away from the city for four years, I knew when I came back that I wanted Atlanta to be the place where I planted roots, personally and professionally. I'm fascinated and inspired by the business community here. Atlanta companies span a wide range of industries and are looked to as global leaders in their fields. Additionally, the Atlanta business community offers a diverse group of individuals from whom I hope to learn and with whom I hope to build connections. I knew that following business school I wanted my network to be based in Atlanta, so in choosing Emory, I was also choosing Atlanta.
Who was your favorite MBA professor? 
Emory's faculty is comprised of world-class teachers, and I'm particularly partial to those who patiently endured my never-ending stream of questions. To narrow it down, however, I'd have to say that Professor Ray Hill has had a profound impact on my business school learning experience.
Starting in Core Econ, Professor Hill sets the bar high for his students with random cold calling, ensuring that everyone is prepared and taking the material seriously. Having now taken his two electives (Project Finance and the Economic Environment of Business), I can confidently say that I have a firmer grasp on corporate financing, macroeconomic theories, and simply how to do well in business. As his TA, I was able to build a more personal relationship with Professor Hill and have thoroughly enjoyed learning more about his pre-teaching career, the real world experience which he often integrates into the classroom. Professor Hill is tough, there's no doubt, but he cares so much about the learning of each student. I'm certain that every person who's taken one of his courses would say they learned exponentially more because of the level of excellence he demands.
What was your favorite course as an MBA? 
It should come as no surprise that my favorite course, Project Finance, was taught by my favorite professor, Ray Hill. Having majored in Finance in undergrad, some of my MBA finance courses served as refreshers, but the concept of project finance was completely new to me. I was fascinated to learn about an entirely new category of financing I hadn't known existed. Plus, the class was exceptionally challenging, which helped me learn a lot! Professor Hill brought the subject to life by sharing real-life case studies from his time as CFO of a large utilities provider and brought in guest speakers to share their experiences. I'm certain that the financial modeling skills I learned in this class will prove applicable sooner rather than later, but what I really took away from project finance is the importance of assessing and managing risk in making smart business decisions.
Looking back over your MBA experience, what is the one thing you'd do differently and why?
Well, I'd like to do the whole thing over again because it's been so wonderful! More specifically, I think I'd be both more and less involved at the same time. During my time at Goizueta, I took on a select few major leadership roles. I loved and valued the mentorship I was able to provide our first-year class, but these positions were also very time-consuming. If given a do-over, I might spend more time getting involved in a lot of clubs but at a lower leadership level. There were so many cool events that I missed out on simply due to scheduling restraints, such as the International Potluck, our Diwali event, guest lectures, and intramural sports. There are countless opportunities to experience new things at Goizueta, and I wish I had spent more time diversifying my time to maximize it!
What is the biggest myth about your school? 
Many people view Emory University's Goizueta Business School as "too small." I must say, however, that class size is the magic to Goizueta. I've found that the number of people in my class is both large enough to feel my own perspective broadening but small enough that I have personal relationships with almost everyone. I can't imagine going to a school where I wouldn't know the person sitting next to me in class. The relationships I've made at Emory will last far beyond business school. Goizueta's size not only fosters a close-knit class, but it also allows for deeper student-faculty relationships. Being on a first name basis with our Dean or chatting with a professor after class makes it feels like Emory cares as much about me as I do it.
What did you love most about your business school's town? 
Atlanta is my hometown, so I'm biased. What I love most about Atlanta is the different neighborhoods – one minute you could be walking down the wide, tree-lined streets of Virginia Highlands and the next you're at a cool, pop-up speakeasy in EAV. Atlanta is a vibrantly diverse city full of born-and-raised locals and transplants, alike. Best of all, however, is the fact that I live in the Edgewood/Candler Park neighborhood with all my closest business school friends. The majority of us moved in our second year to the same apartment complex, and it feels a lot like college in the best way. I love going for a walk and passing three friends in the process – it makes a big city feel small.
What is one thing you did during the application process that gave you an edge at the school you chose? 
It's hard to say whether or not I had an "edge" or simply wore the admissions team at Goizueta down (Ha!). It was important to me when applying that I had a good sense of the type of community the school(s) fostered, so I made it my goal to attend as many admissions events as possible. At Emory, I attended diversity sessions, tips and tricks on how to apply, and I even had a few one-on-one coaching sessions with our wonderful admissions advisors. These events not only helped me feel confident that Emory was a good fit, but showed admissions that I was interested in Emory and would continue to stay interested and involved should I be invited to be a student there.
Which MBA classmate do you most admire? 
The best part about getting my MBA at Goizueta is the people, no contest. The relationships I've built have had a profound impact on my life, so asking me to pick one peer that I admire is wildly challenging! One person who comes top of mind when I think about her impact to our class's MBA experience, however, is Jenny Di. I met Jenny at a social event before school had even started, and I knew even then that she was going to have an impact. In her roles as Co-VP of Off-Campus Activities and GWIB President (and I'm sure many more that I can't think of now), Jenny has made it her goal to plan inclusive events for our class to come together and create memories. She's offered up her home, credit card, and insane spreadsheet-making abilities in order for all of us to have a more fun MBA experience. She's kind-hearted, welcoming, creative, and the most excellent planner I know. Everyone in our class knows Jenny for the amazing events she plans for us and the excellent standard she holds herself to in the classroom. She models everything that Goizueta stands for, and I'm lucky to call her my friend.
What are the top two items on your professional bucket list? 
I'm not entirely sure where my career will take me long-term, but I do know I want to make an impact. Specifically, I'd like to be known for my words – written or spoken. I love to write (and talk, I suppose!), so I'd be honored to have the opportunity to write a book, become a speaker at executive conferences, or even give a commencement address as a way to share my experience with others. I also hope to have the opportunity to manage people, to understand their goals and help develop their strengths and weaknesses, but more pointedly, I hope to champion someone's promotion, to be named as a mentor in a future executive's journey to success.
Interested in exploring Full-Time MBA opportunities? Learn more about Goizueta's Full-Time MBA program.
First published in Poets&Quants.