From Atlanta to Houston: Goizueta MBAs are "All In" on Cleantech
Preparing for the Competition
Margot Merwin, Ph.D.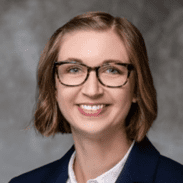 This past October 2022, my friend Peter Danis asked me if I wanted to join his team to compete in the Rice Cleantech Innovation Competition (RCIC). I did some research and discovered that the competition was about energy and the environment, topics that have piqued my interest and I've explored (with Peter and others) in the Goizueta Energy and Cleantech Association (GECTA) over the past year. I was all in.
We formed a superstar team of Ryan Murray, Evan Scott, Glenn Welch, Peter, and myself, Margot Merwin. After throwing around ideas on Slack, we decided on the team name "Windmillionaires" to emphasize our dual focus on environment and financial returns. The case prompt came out a couple of weeks later and we had our work cut out for us. We were tasked with finding an innovative business to invest in—a business poised to reduce greenhouse gas emissions (GHG) through novel technologies.
We researched these areas to find out where an investment could make the biggest reduction in GHG and worked together to choose a direction in a series of (what felt like) early-morning meetings. We cycled through two big ideas (capturing methane from landfills and storing carbon in concrete—like in the 725 Ponce building in Atlanta) before settling on our winning idea: to invest in clean hydrogen for heavy trucking through Celadyne Technologies, a hydrogen fuel cell technology innovator.
Through our research, we discovered that accelerating the adoption in clean hydrogen fuel in heavy trucking could displace 18.1 billion miles currently driven on diesel, reducing CO2 emissions by 34.8 million metric tons. That's the emissions equivalent of operating 9.3 coal-fired power plants for a year!
A Trip to Houston
Peter Danis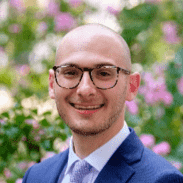 It was a busy 12 days between the release of the prompt and our final submitted pitch deck. For the first round the judges reviewed all 19 submissions from student teams across the country, and the top five entries were invited to the final round in Houston. We made the cut and were excited to be competing with other teams from Rice (Jones), Berkeley (Haas), Michigan (Ross), and Babson (Olin).
The biggest challenge was that all the slides from round one were completely frozen and could not be changed before round two. We did a lot of preparation work tightening up our story and key points, as well as practicing for tough questions from the judges. We even held a mock presentation with our own professors Ray Hill and Lynne Segall, as well as our mentors, Brian Goebel, Sam Moss, and classmates who have venture capital and energy exposure. The practice paid off–we felt confident going into Houston. The generous support of Goizueta's Business and Society Institute made it possible for the team to fly out as a group the night before the presentation and talk over our strategy one final time over tacos and margaritas.
On the day of the competition, we showed up on Rice's campus, had coffee and breakfast, and received a rundown of the schedule for the day ahead. Each team was given a 25-minute presentation slot and then 15 minutes of Q&A from the very impressive judges, hailing from energy VC/PE firms like Saber Equity, Aventurine Partners, and OGCI, as well as the CVC arms of Chevron and Mitsubishi Heavy Industries. Our presentation slot was 1 PM, so we spent the morning doing some final prep and getting loose in our breakout room. After lunch, our session came. We went into the auditorium and gave it our best shot. It ended up being the best run of our presentation! We fielded some really tough questions from the judges and walked away feeling proud of the effort we'd put in.
After all the teams had presented there was a happy hour reception where we could mingle with the judges and other MBA students from the competitor teams. Everyone was a little more relaxed after having completed the presentations and we got to learn more about the other competing schools and their projects. The winners were to be announced at the Rice Energy Finance Summit (REFS) that was being held the next day. With all our hard work behind us, we had a fun night out in Houston with our newfound friends from Rice and Berkeley.
The following day we attended REFS and were pleased when they called the Windmillionaires up to the podium for third place! We posed with a comically large check and shook many hands. For the rest of the day, we enjoyed the speakers at the conference and were congratulated by the other attendees. That night most of us flew back home to Atlanta, trophy in hand. It was quite fun navigating airport security and finding overhead bin space for our big check. But it made it back home in one piece and is now displayed proudly in the Goizueta MBA program office.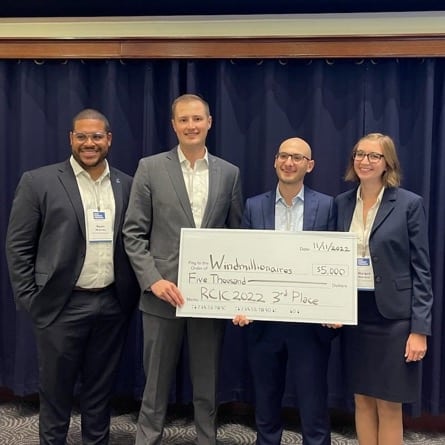 In all, it was a wonderful experience for the team, and we were happy to represent Goizueta Business School well. We look forward to other Goizueta teams participating next year and keeping the tradition going strong!
About the Authors
Margot Merwin is a 2nd-year student in the Full-Time MBA program at Goizueta Business School. She chose Goizueta to make a pivot into environmentally-focused strategy consulting. Prior to business school, Margot worked in non-profit fundraising and higher education after earning her Ph.D. in Philosophy in 2015.

Peter Danis is a 2nd-year student in the Full-Time MBA program. He previously worked as a risk engineer for a multinational manufacturing company and wanted to get an MBA to supplement his technical background. Post-graduation he will be heading into strategy consulting with a focus on industrial decarbonization and the future of energy.