Pathway to C-Suite: Insights and Inspiration from C-Suite Leaders to Propel Your Career to the Top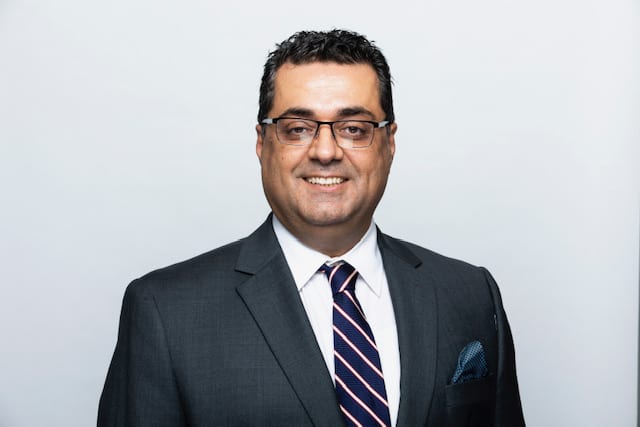 Are you ready to take the first step to the C-suite? Last month, Goizueta Business School's Executive MBA program's signature networking event, Pathway to C-Suite, was an unforgettable experience that provided attendees with inspiring insights and practical tips for achieving top leadership positions. The panelists were an impressive group of C-suite leaders from diverse industries, including Jill Kramer, Chief Marketing and Communications Officer from Accenture, Joe Lawrence, Chief Operating Officer of Porsche Cars North America, LaShonda Oglesbee, Vice President, Global Talent Enablement at Assurant, and David Roemer, Founder and Chief Executive Officer of Ideas United.
Throughout the event, the panelists emphasized the importance of leadership and management skills in today's business environment. They shared their strategies for building and maintaining strong relationships with colleagues, stakeholders, and customers, highlighting the critical role of effective communication, delegation, and decision-making. These insights were not only informative but actionable, providing attendees with practical tips for success in leadership roles.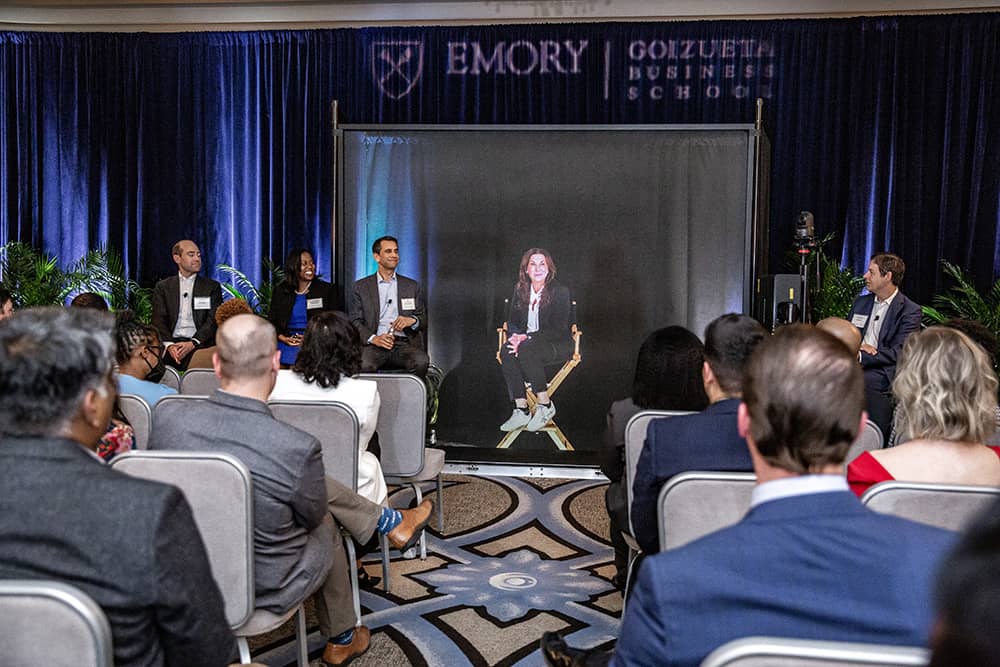 But it wasn't just about business success. The panelists also recognized the importance of creating a positive and inclusive workplace culture. They shared their commitment to fostering diversity and inclusion in the workforce, driving innovation, and building a strong and sustainable business. It was refreshing to see how they balanced the need for profitability with social responsibility, inspiring attendees to do the same.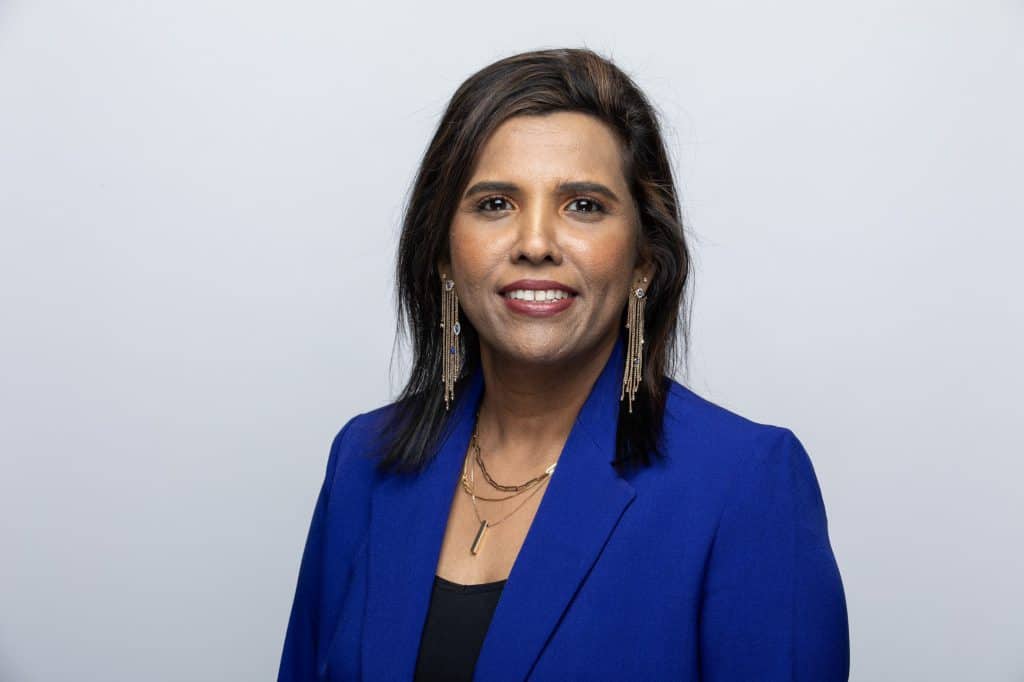 Twinkle Johnson 24EMBA shared featured quotes from the panelists that truly resonated with attendees. Jill Kramer encouraged attendees to "be an agenda-setter and hand-raiser," emphasizing the importance of being proactive and taking the initiative. She also challenged attendees to give up the fear of making "wrong decisions" and continuously challenge themselves. Kramer debunked common CEO myths, noting that having the right people in the right roles can alleviate concerns about loneliness and overwork.
Joe Lawrence's life lesson on having the right person in the right place on the bus and Kramer's advice on making organizational changes sooner rather than later were valuable lessons from which all attendees could benefit. LaShonda Oglesbee's comments on fellowship made attendees think deeply about the importance of leading by example and earning respect and trust.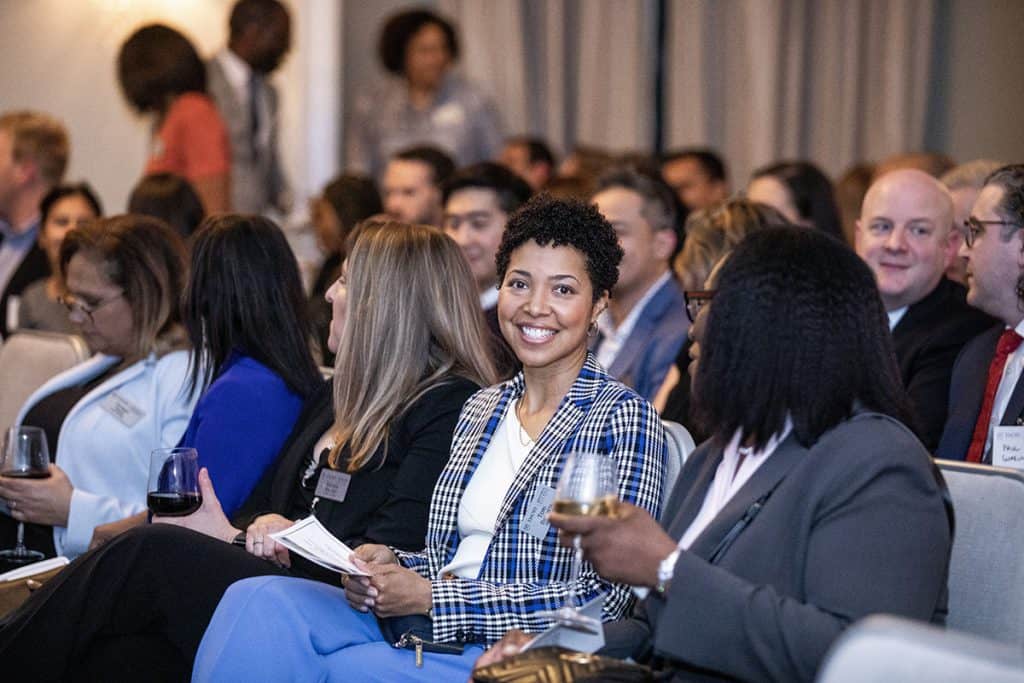 Overall, the Pathway to C-Suite event was an incredible opportunity for EMBA students and potential business school applicants to learn from successful alums and gain valuable insights into leadership and management. Goizueta Business School's EMBA program office did an outstanding job organizing an engaging and informative event. Special thanks to Goizueta's Dean Gareth James, Virna Mendoza, Senior Associate Director of Executive MBA Program, Wendy Case, Senior Associate Director of Executive MBA Program, and Jaclyn Conner, Associate Dean of Executive MBA Program.
If you're looking to take your career to the next level, remember these key takeaways: leadership and management skills are essential, strong relationships are crucial, diversity and inclusion are vital, be proactive and take the initiative, challenge yourself, have the right people in the right roles, and lead by example. Your path to the C-suite starts here.
Pathway to C-suite is Goizueta's signature networking event where students and C-suite leaders come together to discuss professional drive and the pursuit of the C-suite. The personal, authentic, and inspirational conversations broaden the mindsets of students and share the realities of top leadership positions. Each year, senior leaders provide insights to various industries and roles and how they have navigated their careers. Learn more about Goizueta's Executive MBA program.
Blog Contributor
Twinkle Johnson 24EMBA is an Executive Director at the Capability & Platform Engineering Team at Kaiser Permanente. She has more than 20+ years of experience leading high-performing teams building API-first and cloud-ready solutions. She established and scaled a 100-member DevOps/SRE team at Global Payments to build and manage self-service laaS frameworks from Dev to Prod environments. Prior to that, she worked at TSYS where she held multiple titles, including Senior Architect and Technical Product Manager. Twinkle's technology learnings and best practices from the financial sector are now helping transform the health care space. Her work enables developers across the KP enterprise to modernize apps and services by providing toolkits and frameworks that ease the path to the cloud. Twinkle is currently an Executive MBA 2024 graduate at Goizueta Business School. She holds a Bachelor of Computer Science Engineering from St. Peters Engineering College in Chennai, India and is also an AWS Certified Cloud Practitioner, Solutions Architect, and Security Specialist. She is based out of Georgia and finds joy in empowering others to discover their passions and superpowers.