Semester Series: Kirk Smith – The Benefits of Cultural Diversity…at the Expense of Your Waistline
"Think global, act global" – Roberto Goizueta
Mr. Goizueta's quote above couldn't be truer. Over 40% of the Class of 2016 are international students, resulting in many opportunities to interact with different cultures from around the world. November has been a busy month at the school in terms of cultural diversity at Goizueta Business School. There were three events that are worth highlighting how one can eat like a champ even when on a limited budget in business school:
Every year, the International Business Association hosts an international potluck. This is an exciting event where students from each country coordinate bringing authentic dishes representing their cultures. Indian, Pakistani, Chinese, Jewish, Columbian, Korean, Japanese, and American foods were all represented at the potluck this year. What I appreciate the most about this event is the full participation of the students. Not only do they bring delicious dishes, but also their families. There is a general excitement to share food. Even domestic students want to share American food with international students. The presence of everyone in one location gives a great sense of the community that we stress at school.
Diwali is an Indian holiday celebrating the Festival of Lights. In essence, it is the triumph of hope over darkness. The South Asian Student Association organizes the event each year, which includes a brief discussion on what Diwali is, traditional Indian music, and Indian food. This occurs at the beginning of November after the First Years completed their career treks and are starting Block 3. Generally, this is when the course load for the First Year, fall semester begins to lighten. Therefore, this is a great turnout from both first and second years to participate in this important event.
The final event in November was one of my favorite. As part of Club 16, a student organized a Korean BBQ dinner followed by karaoke at a Korean bar. At dinner, each table had a Korean student to show other students how to grill the meat and mix drinks in the Korean fashion. The best part of the dinner? The bottomless dishes of beef and pork provided with the meal. There wasn't a single person who wasn't completely stuffed by the time we rolled over to the karaoke location. Korean karaoke is slightly different than normal karaoke bars. Instead of singing to the entire crowd in the restaurant area, there are smaller rooms that can fit 15-20 people. We had enough participants for two rooms, with people shuffling back and forth depending on what songs were being played at the time. Everyone who participated enjoyed themselves immensely and loved learning about Korean culture!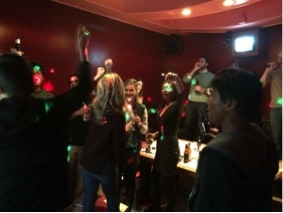 The best part about all of these events? They are all student planned and run. As a member of the GBS community, you have direct control over what you want to experience. Even if you don't plan any events, I recommend that you learn the cultures, and the food, of the countries represented at the school!