SOCAP22: Top Themes & Takeaways in Impact Investing
By Dylan Bahena, Alina Bills, Brian Goebel, and Nikhil Mathur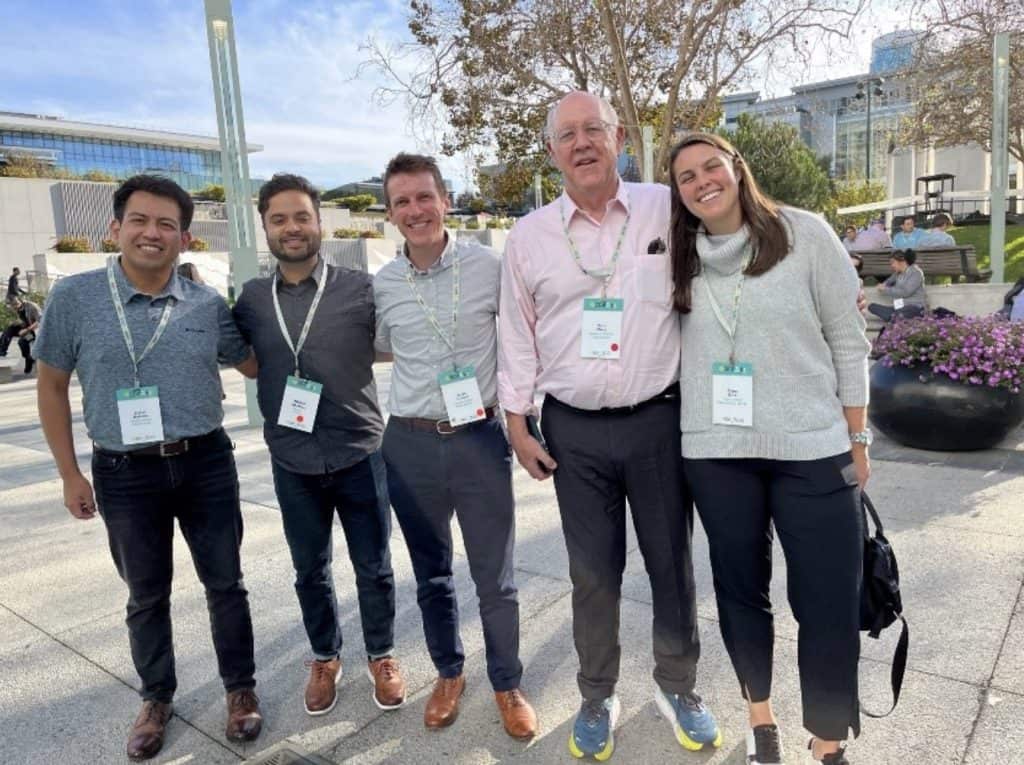 Goizueta's Business & Society Institute team including Brian Goebel, Alina Bills 24EvMBA, Dylan Bahena, Sam Moss, and Nikhil Mathur 23MBA attended SOCAP 2022 in San Francisco, CA, in October.    
SOCAP is an annual event that convenes the largest and most diverse impact investing community in the world including investors, entrepreneurs, and social impact ecosystem leaders. The event delivers learning opportunities, spurs new collaboration, and inspires investment in positive impact. For the first time since 2019, SOCAP was back in person.
Our team enjoyed learning and networking with social entrepreneurs and impact investors from all over the world including a chance to explore San Francisco and some of its local social enterprises.
We are pleased to share top themes and takeaways from our time at SOCAP 2022:
ESG and Finance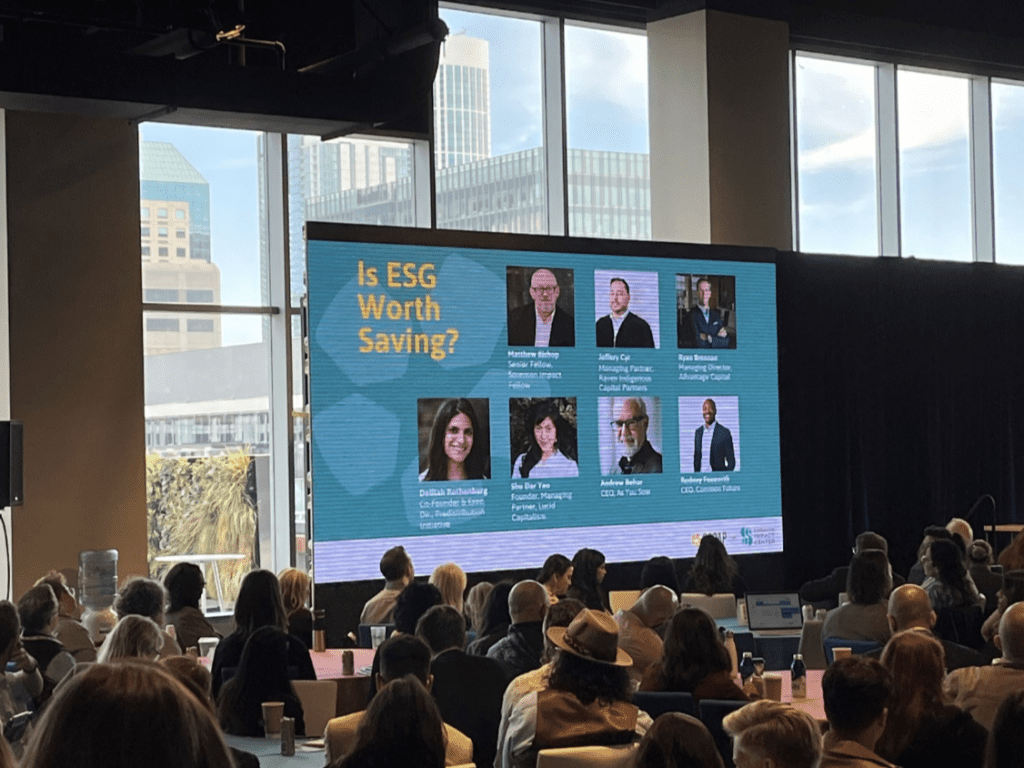 ESG is Subject of Intense Debate: The opening plenary featured an Oxford Style debate moderated by Sorenson Impact Center Senior Fellow Matthew Bishop exploring Is ESG is worth saving? In the end, the majority of attendees were supportive of ESG; however, the group was very supportive of amending ESG principles to move faster toward effective systems change.
Money: From Transactional to Transformative: Money is inherently transactional, but money can also be transformative. Common Future is challenging traditional investment strategies by designing place-based investments that engage the community and trusted members, which ultimately redirects the flow of capital to BIPOC communities and creates a more equitable financial system. Investing in deep partnerships with communities leads to more flexible, non-extractive capital on community terms.
Financial Resiliency is Poised to Make a Strong Impact: The recent pandemic revealed massive vulnerabilities in our economy and the financial strength of individuals. Current systems and practices expose families to financial hardships after lost jobs, evictions, and losses in wealth. ResilienceVC, an early-stage venture capital fund focusing on embedded fintechs, hosted startups to pitch how their companies are building resiliency through financial services. Products and services ranged from digital real estate concierge platforms helping renters gain home ownership, to apps that support low-income families in claiming tax benefits.
Food and Food Systems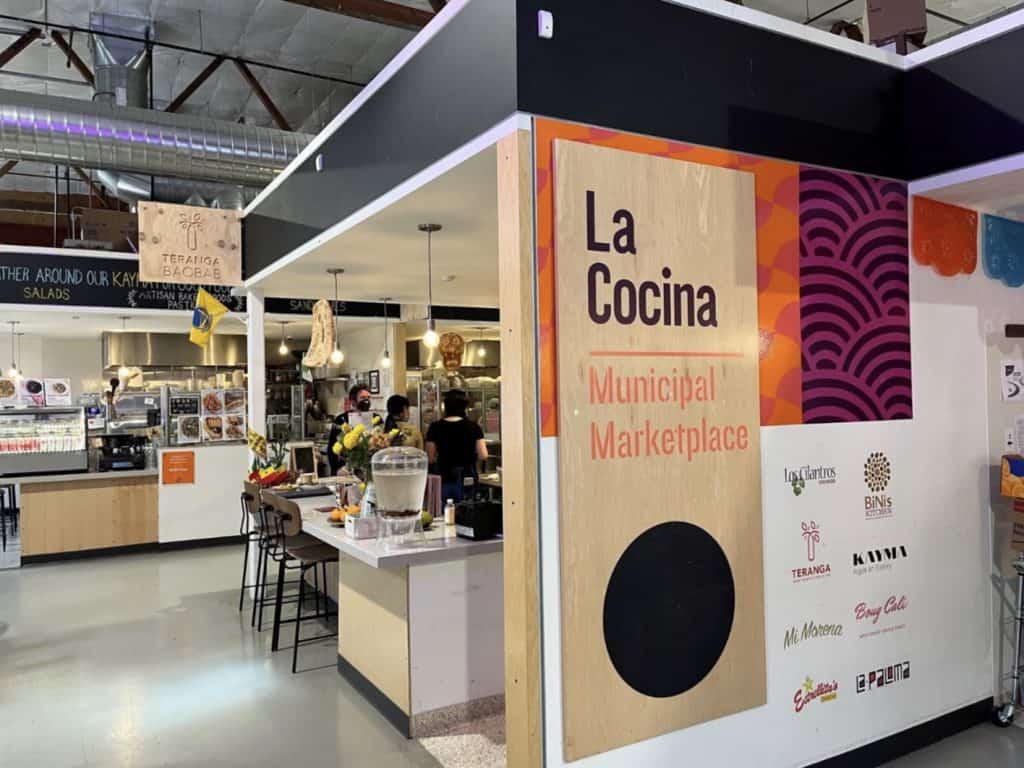 The Food Revolution's Impact on Climate Change: Advances in sustainable food production technologies offered can have an outsized impact on reducing climate change. Food production is one of the economy's most greenhouse gas-intensive sectors. Additional benefits include reducing animal cruelty and improving workers' conditions. Learn more about featured SOCAP panelists and their organizations.
Eating with Purpose: Staying true to supporting local, small businesses, our team had to check out La Cocina – a business incubator that provides economic opportunities to women, immigrants, and people of color. Opened amidst a global pandemic in April 2021, La Cocina is the nation's first women-led food hall in the Tenderloin District of San Francisco and provides affordable kitchen space, industry-specific technical assistance, and access to market opportunities for low-income food entrepreneurs. It's visiting places like La Cocina – who are meeting the needs of food entrepreneurs, creating community through food, and providing economic advancement for not only food businesses through their incubator program but also creating employment for those in the area – that makes you realize that we must do more to support nonprofits, entrepreneurs, and the social impact ecosystem at large. And sometimes just by choosing a specific food hall, you're supporting entrepreneurs, creating more equitable pathways, and trying some new food.
Climate Change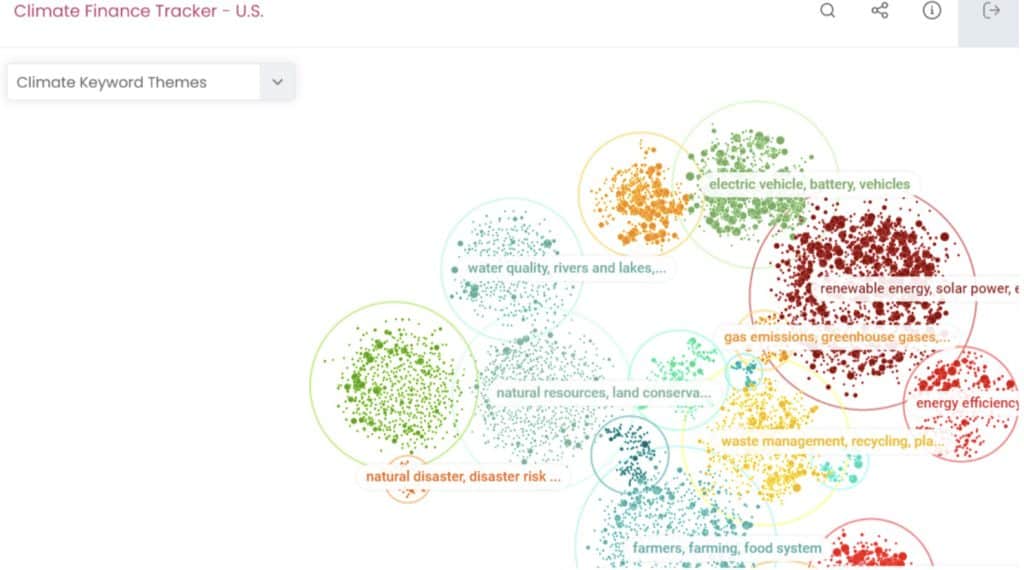 U.S. Climate Finance Tracker Provides Powerful Insights: Behold the largest searchable, open-source visual database of how climate funding flows to organizations and companies on the ground! Dr. Eric L. Berlow, ecologist and complexity scientist and CEO of Vibrant Data Labs provided a demonstration of the beta version of the U.S. Climate Finance Tracker (current version built for desktop access only). The tracker is the first visually searchable ecosystem of over $230 billion in private investment and philanthropic grants to more than 6,000 companies and nonprofits based in the United States.
Web3 and Emerging Fintech Can Play an Outsized Role in Combating Climate Change: Fighting climate change takes a village, and companies from sectors across the spectrum must join. Recently, Fintech and web3-enabled companies have begun to design products that will be key to enabling a sustainable future. Gregory Landua of Regen Network Development led a discussion around the invaluable use cases Web3 and blockchain enables. Specifically, Regen has built a digital carbon offsets origination platform on the blockchain, unlocking valuable regenerative financing opportunities. Products like these are enabling more individuals to scale and monetize their ecological practices.
Diversity, Equity, and Inclusion
Disability as an Asset: Almost every person will experience a disability before they die; however, two-thirds of the world's working age population living with disabilities are unemployed. Historically, disabilities have served as the impetus for innovation – the typewriter, telephone, audiobook, electric toothbrush, and more have been invented to allow for greater access. With significant resources dedicated to DEI initiatives, it's important to ensure companies include people living with disabilities as part of conversations and do not overlook accommodations. At the end of the day, accessibility is a customer service issue – it pays to meet people where they are. Learn more about featured SOCAP panelists and their organizations.
Fines and Fee Systems Under Review by City Governments: Inequity is often perpetuated by local government's fine and fee systems. José Cisneros, elected Treasurer for the City and County of San Francisco, shared more on the Financial Justice Project which assesses and reforms fines and fees that have an adverse disproportionate impact on low-income people and communities of color including cutting tows & booting fees by 50% and waiving $33 million in criminal justice debts.
Agriculture and Rural Communities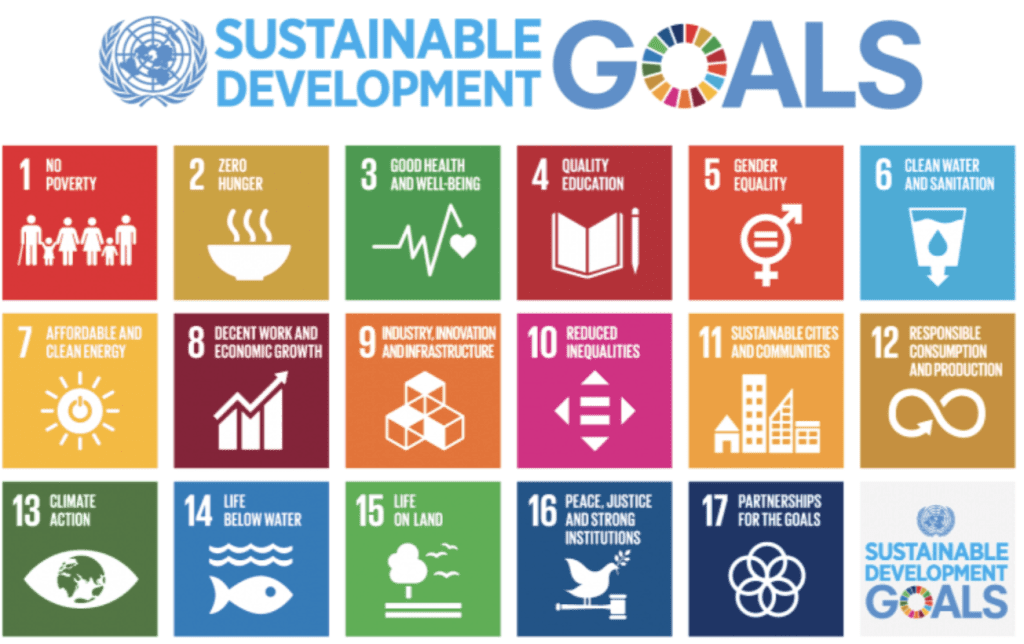 AgTech has an important role to play in achieving the UN's Sustainable Development Goals: Agriculture has always been an integral part of human life; however, innovation in agriculture is increasingly gaining attention from innovators and investors. Lack of food, supply chain disruptions, and environmental risks have strained current systems, and the energy and focus across the vertical could be felt at SOCAP. Investment funds like SOSV and Agriculture Capital had significant representation at the conference, sharing investment ideas around IoT and smart sensors for farmers, ocean agriculture, meat alternatives, and bee pollination enablers.
Enterprising Communities in Rural America Through Impact Investing: Alex Flachsbart, founder and CEO of Opportunity Alabama, spoke about why successful economic development in rural communities requires a thoughtful approach. There should be an emphasis on creating meaningful relationships with the community to gain trust and build authentic engagement from stakeholders. Successful projects in rural areas uplift entire communities and require purposeful participation from all parties.
Indigenous Communities Pushing Back at Big-Ag in the Great Plains: A panel of indigenous leaders including Sikowis Nobiss, executive director of Great Plains Action Society, discussed taking steps to dismantle colonial-capitalist farming practices in the Midwest. The Midwest is the most biologically colonized land in the U.S. which has led to severe land degradation and contributed to the climate crisis. Indigenous experts here suggest rematriation of ancestral tribal lands and the reintroduction of first foods to restore the health of ecologies.
Now in its 14th year, SOCAP and the broader impact investing community it convenes has grown significantly. More money than ever before is being invested. The Global Impact Investing Network (GIIN) estimates today's worldwide impact investing market size to be $1.164 trillion. Here at Goizueta Business School and at business schools across the world, impact investing is featured in courses including several electives and put into practice via student-led funds including the Emory Impact Investing Group, Goizueta Impact Investors, and the Peachtree Minority Venture Fund. We look forward to putting our new insights and connections from SOCAP 2022 to work on campus and in the community in 2023.
About Authors
Dylan Bahena: Program Associate with the Start:ME program. He recently graduated from the University of North Carolina at Chapel Hill where he studied Public Policy and Political Science with a Philosophy, Politics, and Economics Minor.
Alina Bills 24EvMBA: Passionate about neighbors, neighborhoods, and economic empowerment Alina applies that to her work with the Start:ME program as the Program Manager. Alina is currently studying for her MBA at Emory University in Goizueta's Part-Time MBA program and graduated from Fordham University with a degree in International Studies and Economics where she focused her studies on the socio-economic development of women in emerging economies.
Brian Goebel: Oversees the Business & Society Institute's collection of innovative fieldwork programs, student activities, along with internal operations and stakeholder partnerships. He also serves as an instructor for the B Corp Learning Lab, Social Impact Management, and Philanthropy Lab.
Nikhil Mathur 23MBA: Nikhil is a second year MBA at Emory where he is a Social Enterprise Fellow and a Managing Partner for the Peachtree Minority Venture Fund. This past summer, Nikhil worked at the Advanced Research Projects Agency (ARPA-E) in the Department of Energy and with TTV Capital, a 22-year-old early-stage fintech venture fund. Prior to business school, Nikhil spent 6 years in Private Equity and Consulting roles.