Wide variety of clubs enhance business school experience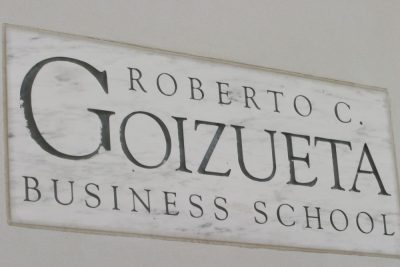 Business school: Where people take classes and grow their careers, right? While the classroom and the career center may occupy a lot of our time, clubs are another integral part of the business school experience. They let you get to know your classmates better, apply some of the leadership skills you've learned and simply participate in something you're interested in. Some might argue that the experiences you get from some of the clubs offered at Goizueta are just as valuable as what we learn in the classroom for our future careers.
I personally value clubs and student activities as a crucial part of my time in business school. They have been invaluable in career preparation, meeting new people and providing the opportunity to give back to the school. I am part of the Finance Club, Goizueta Ambassadors, Goizueta Partners and Honor Council, and I am also a Peer Career Coach.
Finance Club and Peer Career Coaching were great ways to jump start recruiting season. Before even starting school, I was assigned a PCC who worked with me to understand the lay of the land for finance recruiting and did a phenomenal job reviewing my resume. It had already become magnitudes better before even stepping foot in the career center.
Once I started school, the help with preparation only got better with the Finance Club. Not only did it make me feel comfortable with the upcoming recruiting timeline, but it also provided all the resources I needed for preparing for networking events, coffee chats and interviews. Without the Finance Club, the whole job-seeking process would have been a lot more daunting. Becoming a PCC myself was a way for me to pay-it-forward and help the incoming class with recruiting. On top of that, it helped me develop my mentoring and resume-critiquing skills which will be valuable soft skills in my career.
I felt like I had great results with my career search and meeting new people here at Goizueta, so I felt grateful and wanted to give back in what way I could. In addition to becoming a PCC, joining the Honor Council and becoming a Goizueta Ambassador helped me do so. Upholding the integrity of the school is something that is important to me, and participating in the Honor Council helps keep me grounded and ensure I think about doing the right thing. Additionally, with Goizueta Ambassadors, I can do my part in trying to convince prospective students to come to Emory, while helping them think about what they are truly seeking with their MBAs. I remember how scary trying to find a business school was!
Overall, the clubs at Goizueta are invaluable. The wide variety can help with building your career, networking or simply pursuing what interests you, and they have surely been a huge part of my business school experience. I would highly recommend to any future business school students to become involved in any way they can, and take advantage of what Goizueta has to offer.