A Look at How Leaders Beget Leaders: My Experience with Inside Goizueta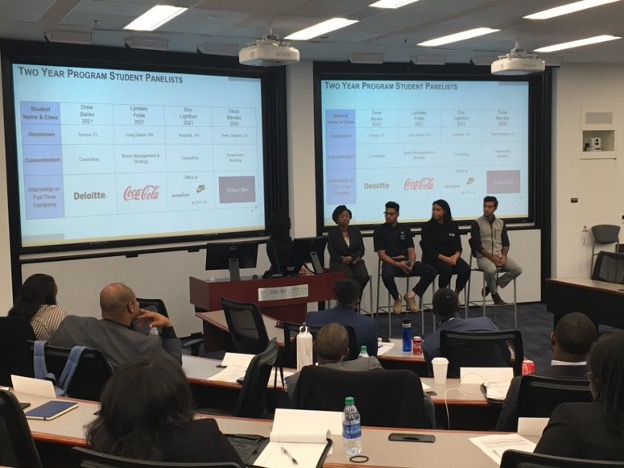 When I think of the impact and growth that I want to see at Goizueta, increasing the representation of women, Black, and Latinx/Hispanic students and the continued development of strong connections across cohorts are vitally important. During the application process, I spent hours contemplating not only what resources at Goizueta could help me, but also how I could use my experience and gifts to help give back to the people here at school. With six years of experience in executive search before business school, I wanted to assist with the recruitment and development of top MBA talent from underrepresented backgrounds.
In 2019, I had the privilege of attending Inside Goizueta – Emory's annual diversity recruitment conference. As an attendee, I knew it was something I wanted to be part of as I watched three incredible Goizueta alumna—Lyndsey Fridie 21MBA, Kat Pinckney 20MBA, and Sydney Williams20MBA—set an example that I wanted to follow.
At that event in 2019, I was able to meet some of my closest friends at Goizueta, including Bruce Lee 22MBA, Breanna Spurley 22MBA, Chris Sanchez 22MBA, Simone Trotman 22MBA, Taylor Benford 21MBA, and Kelley Davis 21MBA. To this very day, I think we can each remember the opening dinner and the wings we shared during a night out at Suite Lounge (I still love my extra wet lemon pepper with the crispy finish). Little did I know that these first connections would turn into the people who push me to develop, hold me accountable, and make me a better person today, all while stepping into our future careers together. I want to share that feeling with others.
Today, I'm on my second round as co-chair of Inside Goizueta 2021 and have had the privilege of serving a student committee and advisory board with keen focus on intersectionality and representation and an intrinsic commitment to continuous improvement.
Inside Goizueta 2021 took place November 3-6, during which we launched programming targeted to women, LGBTQIA+ students, Black students and Latinx/Hispanic students–all without forcing prospective students to choose between their identities. We want people to understand that they are welcome in the Goizueta community and that we are doing the work to ensure that all people are celebrated here. I've thrived off the energy of incredible peers, leaders, and friends here at Goizueta and want you all to see the people who make our school such a special place.