Atlanta's Piedmont Park offers great escape for students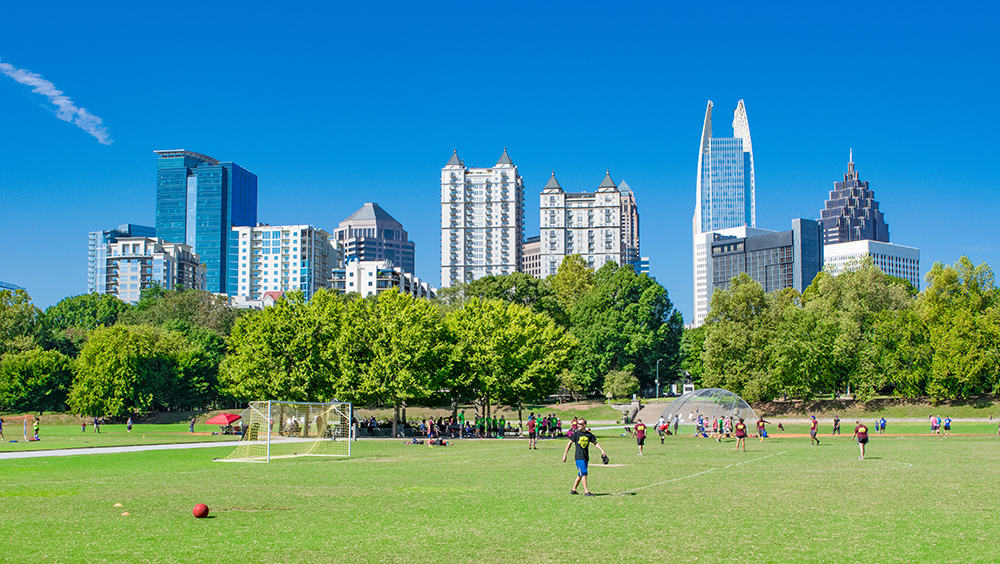 It's spring-time in Atlanta, and we all know what that means — Piedmont Park is open and ready for festivals, markets and pick-up sports. As one of Atlanta's largest public outdoor spaces, all 189 acres, the park offers up an abundance opportunity for fun and excitement.
Whether it is a scheduled event, a picnic or a game of soccer, people from all over the city come to Midtown on a sunny weekend afternoon and make the most of the day. Goizueta students are some of the biggest frequenters, bringing games like spike ball and football to keep the energy flowing and stress levels from studies down. A couple of my friends and I kicked the season off with soccer in the park on a warm(ish) sunny day.
On Saturday, March 24, the first farmers market of the season was open at the intersection of Piedmont Avenue and 12th Street. There were crowds upon crowds of people walking through the many stalls, and the event lasted for hours. Delicious smells of fresh roasted coffee, baked goods and other, unique smells from different vendors filled the air. The "Green Market" is scheduled to continue throughout the spring and summer on Saturdays. Notable vendors include Blue Donkey Coffee, Watsonia Farms and King of Pops. Then, there are several vendors I certainly have not heard of offering goods such as duck, sheep cheese and Cuban baked goods. I am eager to see all of the exciting types of foods that make the cut. Who knows, maybe it will be a good chance to do some exotic grocery shopping!
Other major events in the park include the Atlanta Art's Festival, which happens later in August, Music Midtown, set for September and the Pride Festival that takes place in October. There are also several "mini" festivals throughout the year that people may not be as familiar with but that should certainly be on our radars as we enter the season of outdoor fun.
In April, there is the Dogwood Festival, welcoming spring, which includes all sorts of entertainment ranging from live music to a 5K run.
In May, the Atlanta Jazz Festival comes to the park and even makes its way to bars and venues across town. Shortly after, there is the Atlanta Food and Wine Festival. This one speaks for itself but really, who would miss an opportunity to drink some wine and eat delicious chocolate?
The list goes on with an ice cream festival in the summer and other, culturally focused festivals with arts and music spread throughout the year.
Moral of the story? Come out to Piedmont Park with friends, enjoy the sunshine, eat some ice cream and keep tabs on all of the amazing events this city has to offer.