Conversations, Compassion, and Change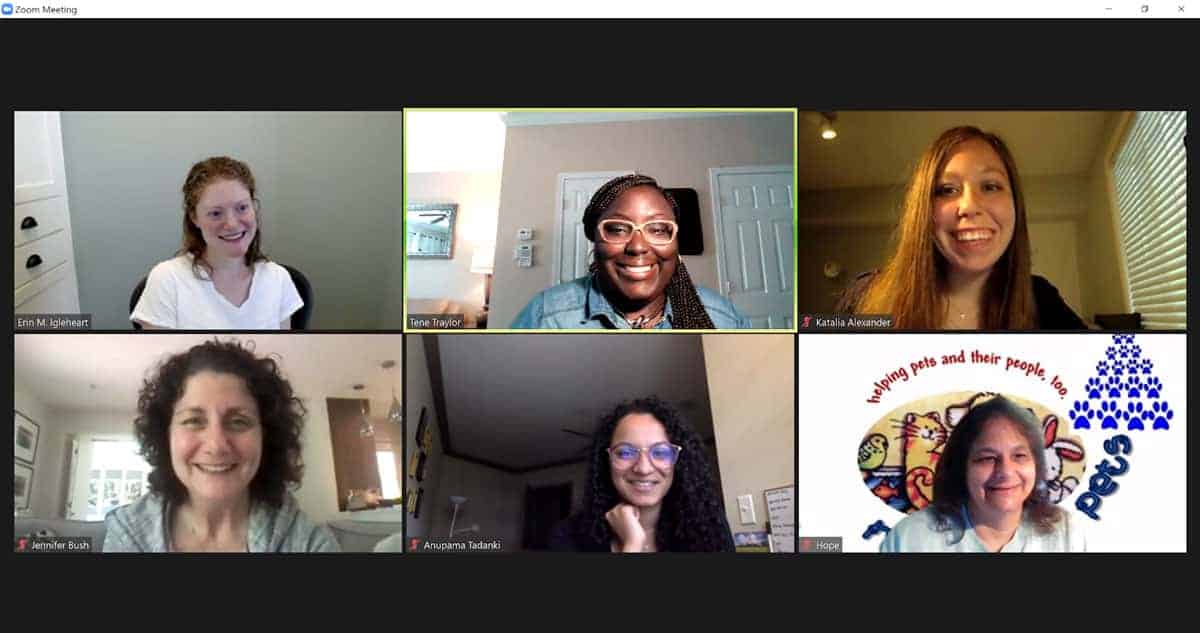 As Social Enterprise Fellows with The Roberto C. Goizueta Business and Society Institute, we are always excited for opportunities to actively engage with Goizueta's efforts to build a "more equitable and climate-smart world." So when the Institute hosted a series of Civic Dinners as part of their virtual launch earlier this year, we were quick to sign up. These conversations were designed to foster dialogue around wicked challenges related to the physical and socioeconomic environment. Excited for an opportunity to engage with other professionals in the impact space and grow our networks after spending a year in a virtual workspace, we both signed up for the Economics and Equity conversation.
The moment we hopped into the zoom meeting, we knew the conversation would be rich with different people and perspectives. Though there were only six participants, we spanned several generations. The diverse perspectives offered by the mix of students, community members, and professionals in fields such as philanthropy, consulting, and healthcare set the conversation apart from those in a classroom.
Our host, Tene Traylor, a Fund Advisor with the Kendeda Fund and a co-instructor for Goizueta's "Philanthropy Lab" course, navigated us through 90 minutes of discussing heavy questions such as:
Is the American Dream available to everyone in 2021?
In what ways has the business community perpetuated societal barriers that generate economic disparities between different groups?
What concrete steps can businesses take to promote economic equity?
These questions led to a rich conversation about disparities in achieving the American Dream. We discussed the lack of transparency in most workplaces and how it perpetuates already existing racial and gender disparities like the wage gap. We noticed such disparities in other economic spaces as well, discussing the underperformance of financial institutions in serving minority populations. Recognizing the importance of access to resources in achieving the American dream, attendees celebrated the work of community development finance institutions (CDFIs), which are bridging the gap between traditional finance systems and minority populations. The effectiveness of such institutions became particularly clear in the context of pandemic relief programs such as the Paycheck Protection Program (PPP), as CDFIs were able to put capital in the hands of low-income and BIPOC business owners left out by larger financial institutions because of the deep community relationships CDFIs build. Perhaps big banks have a thing or two to learn from CDFIs!
While an hour and a half was hardly enough time to even scratch the surface of many of these topics, Tene ensured that we ended with a focus on practical next steps. Overall, we agreed that our society's current understanding of the term "professional" needed to evolve beyond simply focusing on business needs. Our fellow guests reflected upon the role that education, especially at early ages, plays in building the talent pipeline of thoughtful and conscious professionals. At later stages, like business school, for example, the group agreed that there should be a greater emphasis placed on jobs that benefit the community.
Attendees also spoke of the need to better integrate business and society issues. Particularly, we emphasized the importance of not siloing corporate social responsibility and equity efforts away from overall business activities. As students entering the business world after graduation, this last point was particularly impactful, and reminded us of the importance of continuing to ask how businesses can meaningfully engage with the issues most important to society. Despite spending the majority of our time exploring all the ways in which society is unjust, the discussion around next steps left us feeling optimistic about what we as change agents have the power to do to improve our business community.
Katalia Alexander 22MBA
Katalia is a rising senior at Goizueta studying Strategy and Management Consulting and Business and Society with a double major in Sociology. She currently serves as the Chief Operating Officer of the Emory Impact Investing Group, which gives microloans to local entrepreneurs to increase access to capital and is a Social Enterprise Fellow.
Anupama Tadanki 21MBA 21MPH
Anupama is an MBA/MPH student at Emory University as a Robert W. Woodruff Scholar and Social Enterprise @ Goizueta Fellow. Prior to graduate school, she supported a $55 million dollar portfolio of grantees within the Global Development and Population program at the William and Flora Hewlett Foundation. After graduation, she will be joining McKinsey & Co. as an Associate. In her free time, she loves paper flower making, vegan cooking, and exploring world music.