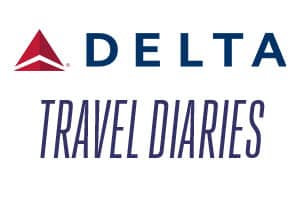 How would you suggest solidifying Delta Air Lines the "carrier of choice for the next generation of travelers"? That was the question posed by the airline to Goizueta Business School FTMBA students as part of its inaugural Delta Air Lines Mid Semester Module International Travel Competition, and the more than 120 responses did not disappoint.
Delta and Goizueta launched the creative, interactive competition as a new way to consider company-student engagement while encouraging meaningful and mutually beneficial partnerships. Twenty-five MBA students at Goizueta Business School presented to Delta executives on various ideas to improve business travel, focused primarily on the Millennial traveler and international brand distinction. Students were selected from more than 120 written entries, all reviewed by the Delta team.
Eight finalists were awarded free airfare on Delta for one of the school's international study opportunities to countries such as South Africa, Japan and India. The judges were so impressed with the ideas, which ranged from new reward program elements to social media enabled engagement, that they also added 10,000 SkyMiles to all finalists' accounts.
2017 Delta Travel Diaries