ONE-YEAR AT GOIZUETA: BRETT PATTERSON – SOUTHEAST ASIAN FOR BREAKFAST, LUNCH, & DINNER
"How has this experience changed you?" – The prompt for the final paper following our Mid-Semester Module foray around Singapore and Malaysia
"I've gotten a little fatter…?" – My first thought in regards to the two weeks of Southeast Asian delights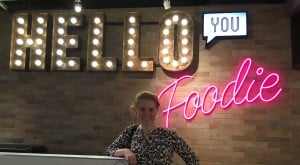 I have to admit, as thrilled as I was to explore a new continent and culture and cross some places off my travel bucket list, I was also a little nervous about acclimating to the Southeast Asian diet.  Growing up, my family had a steady rotation between American, Italian, and Mexican food.  I have always been a little bit picky when it comes to my palate, but in my adult life, I have been determined to live by the mantra "try anything once" in tackling new travel experiences.  While in former adventures, this has led me to dine on horse cheeks in Spain, Rocky Mountain Oysters in Nicaragua, and pig intestines in Hong Kong, I wasn't going to let an unfamiliarity with Asian cuisine prevent me from having the fullest experience possible.  So I packed my bags with a couple dozen emergency Cliff bars and plenty of Pepto-Bismol and set off on the two-day expedition through airports until I found myself on the other side of the world.
I instantly fell in love with the cleanliness and organization of Singapore.  From the beautifully decorated highway medians to the pristine sidewalks, I knew my food would be coming from an equally immaculate kitchen.  So, I put my food poisoning fears aside and allowed myself to completely dive into the tastes that surrounded.  Singapore's culture is a diverse combination of the cultures of surrounding countries as many of the residents were not born in Singapore.  This had a great impact on the food scene and allowed me to try several different types of dishes within a single meal.  My favorite experiences involved visiting the Hawker Centers, or outdoor food courts, decorating the neighborhoods and selling one's fill of food for less than $5.  Following in Anthony Bourdain's footsteps, we ate our way around one particular Hawker Center eating everything from Singapore's national dish, Hainanese Chicken Rice, to Green Thai Curry, and peanut pancakes, while sipping on fresh exotic juice combinations.
Another one of Bourdain's suggestions led us to Little India, an area of town I was less than thrilled to visit based on my disdain for Indian curries.  In the past, I had joked that the only Indian food liked was garlic, cheese naan (which is still delicious and my favorite Indian food), but this experience certainly tested my limits and resulted in a smile and a happy belly.  We got slightly lost in navigating to the location, a small restaurant with no sign on an off street far from the tourist destinations.  The waiter, confused by the presence of six Americans, sat us at a table hesitantly and simply asked, "Chicken or goat?" as he counted our responses on his fingers.  There was no menu and no naan, so I was immediately worried.  Less than two minutes later, my chicken skewers arrived along with plates piled high with spiced rice and eggs.  The chicken, though quite spicy, had no resemblance of the Indian curry spices I had turned my nose up at in the past.  I pillaged through the skewers, dunking each bit into a creamy yogurt sauce to cool down the heat, and was the first to join the clean plate club.  I ate Indian food and I liked it.  One point for Singapore in proving me wrong.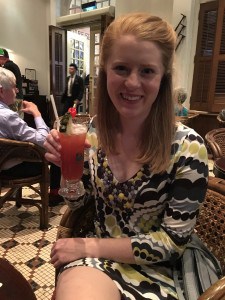 As we continued the cultural tours and company visits throughout the city, one thing that I was constantly fascinated with was the modern and artistic architecture of the relatively new city.  Skyscraper after skyscraper resembled everything from cruise ships to dragon claws.  The Singaporeans certainly knew construction and it didn't just stop with metal beams and shiny glass windows.  The Singaporeans could construct beverages like an art form.  Like any good tourist, we made it a point to visit the famous Raffles Hotel and have a drink at the bar where the Singapore Sling was first invented.  Entering the bar, I immediate noticed the rustic, yet elegant ambience.  With $30 cocktails and peanut shells on the floor, I felt as though the Long Bar would be a destination for the bad guy from Jumanji to relax after a long day of wreaking havoc on Robin Williams and children.  The fruity cocktail hit the spot, (and then motivated us to find another Hawker Center to limit the dinner budget).  The impressive construction was not limited to the glamourous bars and nightlife sprawling the city.  After consulting some travel blogs and Buzzfeed, I came to find that Singapore is home to the first place winner on the World's Best Milkshake rankings.  Naturally, we had to see the creations, defying gravity with slices of cake, cookies, candies, and whip cream, and see what all the hype was about.  The expectation was trumped by reality and I challenged my shake with gusto!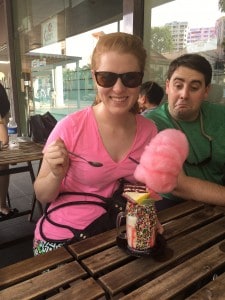 Leaving Singapore was bittersweet, but heading to Malaysia uncovered one pleasant surprise after another.  From the looming safety concerns to acknowledging we were leaving sophistication, I was a little hesitant and overall unsure of what to expect or if I would even feel as though I could fully enjoy my time in Kuala Lumpur.  Within 24 hours, I was able to put my worries aside and I felt confident simply using my usual world traveler smarts when navigating the new place and new cuisine.  While Malay cuisine was not something I could have distinguished from Chinese food prior to our trip, I quickly and happily began taste testing with each meal.  A simple trip to the food court in the Petronas Towers a few steps from our hotel, revealed several regional delicacies as well as some familiar concepts tailored to the Malaysian taste buds.  I distinctly remember wandering around an open area in the mall while waiting for a few friends and noticing the Auntie Anne's.  I watched the long line queue for a few minutes as customer after customer excitedly ordered their green tea sprinkled pretzel and I enjoyed my traditional coconut rice.
The highlight of Kuala Lumpur both from the perspective of my stomach and my mind was enjoying a food tour with our instant new best friend, Charlie.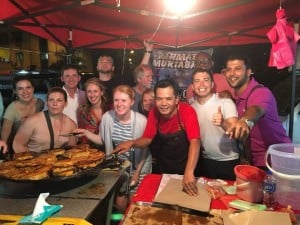 For several hours into the evening, Charlie led us through parts of Kuala Lumpur that have rarely seen tourists, much less Americans.  We hit the highlights, experiencing foods and learning about the three main cultures that are present in Kuala Lumpur; Chinese, Malay, and Indian.  We ate family style, sharing huge portions of unrecognizable concoctions while sipping on fluorescent drinks with some assembly required, all while learning about the country's Muslim culture and its influence on everything from professional to personal relationships.  We explored night markets where locals had just as much intrigue and enthusiasm for us as visitors as we had for the intoxicating smells and foreign produce.  I jumped right in to the experience, not just by tasting, but wanting to learn by doing.  A gracious and patient man employed me to learn to cook what can only be described as an eggy crepe filled with meat, spices, and onions.  My contribution was mediocre at best, but I was excited to be able to add Malaysian Night Market Chef to my resume and boost the GBS Career Management Center's employment statistics.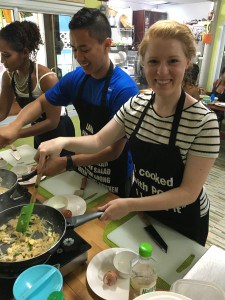 Following our class portion, I continued navigating north up the Malaysian peninsula into Thailand to visit Bangkok and Phuket for Spring Break with some classmates.  Considering my first experience with Thai food came only after registering for the Mid-Semester Module in Southeast Asia, I was ready to try the authentic, fully spicy cuisine.  We ate fresh seafood along the floating markets and I constantly craved the crunchy, tartness of green mangoes as we sat by the pool to take in the beautiful weather.  However, just because the Goizueta sponsored class portion of the trip ended, the learning and the eating certainly did not.  As part of my contribution to our group's travel planning, I organized for us to take a Thai cooking class with local celebrity chef, Poo.  Unbeknownst to my companions prior to our class excursion, and for good reason, we spent the morning in the markets navigating past crates of ducks, mountains of durians, and a few dozen pig faces, and into the ghetto where our class was held.  Not only did the experience include excellent, hands-on cooking instruction and a tasty lunch, but we also were able to learn about and assist in the economic stimulus of some of the poorer areas of Bangkok.
In three weeks' time, I experienced more and was delighted by more than I ever would have thought when boarding my first flight.  I jumped in and was not only an active listener, and eater, but also an active participant.  I explored these cultures and got to know their people through their food.  So I might have returned home a little fatter in my midsection, but my mind and perspective also widened.  I took advantage of an experience to the fullest extent and was happily welcomed and rewarded by Southeast Asian.  I may have brought back five cookbooks for my collection, but I have also brought back a sense of adventure, experimentation, and excitement that will lend itself to my daily behavior as a student, business woman, and international food critic.