Peers make career building process easier, rewarding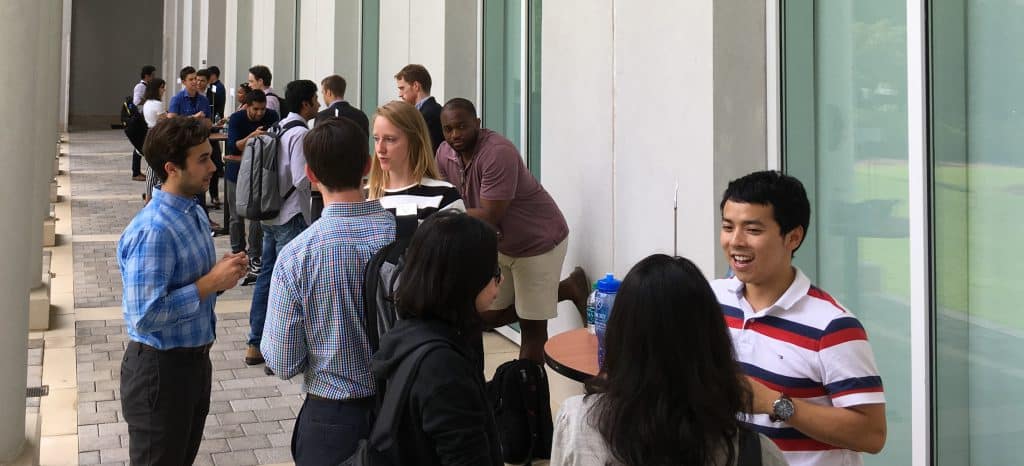 It's the fall semester, and that can only mean one thing at Goizueta: RECRUITING! Whether second-years or one-years recruiting for full-time roles, or first-years preparing for diversity conferences and career treks, a big chunk of the student population is prepping for the next steps in their careers. This could include refining their resumes, preparing their elevator pitches, working on Situation, Task, Action, Result (STAR) stories or making constant visits to the Career Management Center. Goizueta does a great job providing any and all resources students might need to be successful in the job hunt.
I can remember the grueling process I had as I prepped for internship recruiting last fall: overhauling my resume with the help of the CMC, practicing my behavioral interview questions with second-years and moving onto learning to handle the technical questions that are a certain to come up in finance interviews. With the craziness of the first-year "core" combined with this career building, finding a free moment was certainly tough!
One of my biggest resources while I recruited was the second-years. Now that I am in that role, I make it a point to pay it forward since a lot of my professional development was with upperclassmen's help. It started early this summer when I and some other second-years were designated "Peer Career Coaches." As a PCC, I worked with incoming students to get their resumes in shape before they even stepped foot on campus. By connecting first-years with second-years early on, relationships are built and help promote the urgency of the job-seeking process early on. Going through multiple iterations, the new students' resumes are more polished before they meet with the CMC for the first time and review their resume. The feedback I received from my PCC last year was extremely helpful, and while the level of revision may be daunting for an incoming student, it certainly helps kickstart the recruiting process and helps get students thinking about their stories.
The role of a second-year acting as a resource doesn't stop there. Once the school year starts, new students want to learn as much as they can from the second-years. Whenever you walk through the Commons or grab some food from Highland, you'll probably be able to see some MBA students having coffee chats. Coffee chats serve as a way for first-years to learn about summer internship experiences, find out what important issues are at certain companies, practice interviewing and work on cases or technical questions. In preparation for the diversity conferences, there are also mock conferences. I had the opportunity to pretend to be an employer and have first-years practice their resume walks, questions and general conversation skills that they will use at these conferences.
Even outside of recruiting, students are finding ways to engage in career building in preparation for their full-time positions secured from their internships. Some may be trying to negotiate their offers, network their way to a division they enjoyed or get general prep advice from the CMC. In any case, it seems like our careers will always continue to grow here at Goizueta.