2023 Best & Brightest Business Major: Osereme Ujadughele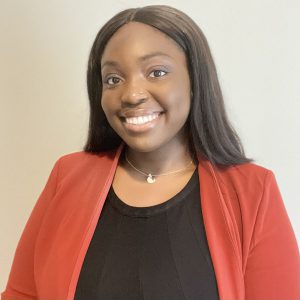 Osereme "Ose" Ujadughele
Emory University
Goizueta Business School
Describe yourself in 15 words or less: Spirited and passionate Nigerian-American, curating positive vibes to add a little extra spice to life.
Hometown: Long Beach, California
Fun Fact About Yourself: Three years ago, I adopted a beautiful lab/akita mix puppy who would probably demand way more treats if she knew how many times I've used her as a fun fact. Growing up, both of my parents had a big fear of dogs, but it's safe to say that my mom and Shadow are now best friends. My dad is still a work in progress.
Undergraduate School and Major: Bachelor of Science in Chemical Engineering with a Nutrition and Food Minor from the University of California, Davis (Go Ags!)
Most Recent Employer and Job Title: Supply Chain Advanced Team Leader at E&J Gallo Winery
What makes Atlanta such a great place to earn an MBA?

Atlanta is literally buzzing right now! Every sector seems to be growing from construction and tech to media and entertainment. Atlanta is becoming a hub for business and innovation so whatever you are looking to do, you're likely to find it here. Additionally, with Atlanta being such an electric city, it attracts people from diverse backgrounds and walks of life. It was very important for me to get my MBA in a place that would expand my cultural network, while also making me feel at home. For that, Atlanta was a perfect fit.
Aside from your classmates and location, what was the key part of Emory Goizueta's MBA programming that led you to choose this business school and why was it so important to you?

Hands down, I'd say Goizueta's leadership-based curriculum attracted me the most to the program. At Goizueta, there's a plethora of opportunities to really lean into your leadership style through programs such as the Delta Leadership Coaching Fellows and Goizueta Advanced Leadership Academy. Being a great people leader has always been on the top of my list. I remember when I graduated from college and transitioned from peer leadership at school to leading very tenured employees in my first month on the job. I learned so much about myself during that time and 4 years later I'm still eager to learn more. I felt that Goizueta's strong emphasis on leadership in and outside of the classroom would help me build my leadership abilities in and outside of my career.
What course, club or activity excites you the most at Emory Goizueta (and why)?
The Black MBA Association. I just love my people and I'm here for all the black excellence! At Emory specifically, the support from members of the Black community has been instrumental in my business school journey so far. It's exciting to be surrounded by people who not only look like me, but have similar mindsets, ambitions and cultural experiences. Having such a vibrant and active black community creates an environment where I can just relax, reset and rejuvenate throughout business school.
Describe your biggest accomplishment in your career so far:
I think my biggest accomplishment at E&J Gallo Winery is probably where I noticed my own personal growth. I came into Gallo as part of their operations management development program which allowed me to rotate into a different role every year for 3 years. A few months into my last rotation, my coworker transitioned into a new role which left the newest member of the team (ME!) leading a large operation with 65 front-line team members. Before I knew it, the rest of the year went by, and I had become the subject matter expert for the department. This was a pivotal moment in my journey where I realized just how much I could do if I stretched myself. I believe that moment of realization gave me the confidence boost to accelerate my career and pursue my MBA.
How did COVID-19 change your perspective on your career and your life in general?
I don't think I realized how serious Covid was until I went grocery shopping and couldn't find my basic foods; let alone trying to find a roll of tissue paper. Seeing so many businesses challenged by the pandemic highlighted a lot of opportunities in the supply chain space that I eagerly wanted to explore. More personally, I got Covid in December 2020, after the pandemic had been a bit more normalized. Honestly, I had never felt so scared and alone in my life. I remember just thinking about how much worse it was for people who got it in the beginning and how lonely they must have felt. Being the dramatic person I am, I literally went through each day thinking about my future, the things I wanted to do, and the places I wanted to go. Now having survived Covid, my new outlook on life is to not hold myself back, live courageously; and live with a purpose, starting with this MBA journey.
What led you to pursue an MBA at this point and what do you hope to do after graduation?
So, I'm a big foodie! I love going to new restaurants in different cities and experiencing different cultures through them. My friends and I created this travel group pre-pandemic where we traveled somewhere new each year for Nigeria's Independence Day. While there were always so many food options, we quickly realized how difficult it was to find African food in general across the country. We started talking about how great it would be to have more African representation in the food and restaurant industry and that just sparked a light in me. Long-term, I'm hoping to use my background in operations, MBA network and skills to open African restaurants that curate a flavorful and authentic experience, while filling the cultural gap in the food space. Since there are so many avenues I could choose, I think right after graduation, I'm hoping to work in a general management function at a strong CPG or retail company.
What advice would you give to help potential applicants gain admission into Emory Goizueta's MBA program?

Based off my own experience, the best advice I can give is to know who you are and what drives you and be nothing less than your authentic self. I did A LOT of introspection during the application process to figure out what truly mattered to me and how to communicate that in my interactions with the admissions committee. If you can do this, it will be easier for you to show alignment with one or more of Goizueta's core values – courage, integrity, accountability, rigor, diversity, team, and community.
Interested in exploring Full-Time MBA opportunities? Learn more about Goizueta's Full-Time MBA program.
First published in Poets&Quants.