Find Your Fit
The first semester of the MSBA program is all about developing our data science skills while networking and exploring career paths. We are constantly learning about how we can apply our data science skills in different industries and what it would look like to work as a data scientist, data analyst, business intelligence analyst, or machine learning engineer. To help us in this process, the MBA Career Management Center curated a special event for MSBA students called "Find Your Fit." In this event, we had the opportunity to hear from panelists working in the consumer, consulting, and tech industries to hear how their companies leverage data science and the roles that MSBA students may be interested in at their companies.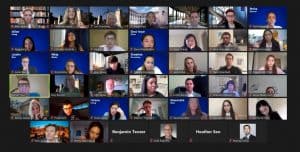 In the first panel, we heard from data science practitioners and hiring managers from The Home Depot, Truist, GE Power, Target, and Pilot Travel Centers. When asked what data science means at their companies, each panelist emphasized that data science is critical to their success. Iris from Home Depot went so far as to say data science is their "superpower." They discussed the use of data science in forecasting, generating insights, and overall helping business partners make data-driven decisions. They also discussed the main tools used at each of their companies, and some of the common tools mentioned were Python, R, SQL, Tableau, and AWS, each of which are utilized in MSBA coursework. Anqi from Truist stressed that being skilled in the process of data science is more valuable than knowing any one language or tool, which aligns with the MSBA program's goal of creating tool-agnostic data scientists. We also discussed differences between data scientist and data analyst roles at each company, and there was an overall theme that data scientists are more focused on building machine learning models and solving problems from a new perspective, while analysts are more focused on descriptive analytics, building dashboards, and sharing insights. We closed the panel with some final advice from the panelists, and Chingwei from GE Power stressed the importance of being a data scientist rather than a data technician by being naturally curious and solving problems that add business value.
Our next panel included MSBA graduates now working as consultants for Accenture, EY, Deloitte and Slalom Consulting. Our panelists' current roles widely varied in terms of technical vs. business focus. Charlotte from Deloitte advised us to explore where we fit on the technical spectrum to narrow down what type of roles would be a good fit for each of us. The panelists also discussed the importance of networking, not only now as we prepare for our job search but also long after we leave the MSBA program.
Last but not least, we learned from a group of panelists from Amazon, Google, Microsoft, and Facebook. As someone who aspires to work as a data scientist for a tech company, I was thrilled to learn more about how these companies leverage data science and what they look for in their data science talent. Each of these companies use data science in many different business functions, and the panelists expressed that data science could mean anything from machine learning, data storytelling, product management, research, or product innovation. Although our panelists all come from highly data-driven companies with extensive data infrastructure, Ankit from Microsoft shared his view that we are still just scratching the surface of what we can do with data science. In terms of job titles, the panelists shared that data scientists tend to model and make predictions, while business analysts generally use SQL and data visualization to make sense of the data as it currently exists. Finally, our panelists discussed company culture. Meagan, a recruiter from Facebook, shared that because Facebook is a very flat company, new employees can make an impact right away. Kristen from Google discussed the concept of "Googley-ness," which summarizes Google's open, collaborative, and team-driven culture.
Data science is an exciting, fast-growing field with job opportunities in essentially every industry. However, for someone trying to break into the field, the options are so expansive that it can be difficult to narrow down the role and company that would be the best fit. Thankfully, the Find Your Fit event gave me insights into the day in the life as a data scientist in a variety of industries, and I feel more confident positioning myself in my job search.