SPRING BREAK VETERAN STYLE
Submitted by Leland Franks, Two Year MBA 2017 and Goizueta Veterans Club president.
Nine days in wine country!  We worked our way up and down Sonoma Valley tasting some of the best wines in the world.  We ended up as members of an irresponsible number of wineries, and made a strong start to the wine collection!  Best vacation we have ever taken!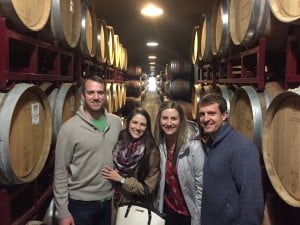 Pictured: Leland Franks, U.S. Marine Corps Veteran, and Dan Burgess, U.S. Army Veteran, with partners