Location
Atlanta is one of the largest southern cities in northern Georgia with the 38th largest population in the United States as of 2020. Georgia is located in Eastern Time and faces the Atlantic Ocean (it takes about 4 hours drive from Atlanta to the coast). It faces Florida, Tennessee, North Carolina, South Carolina, and Alabama.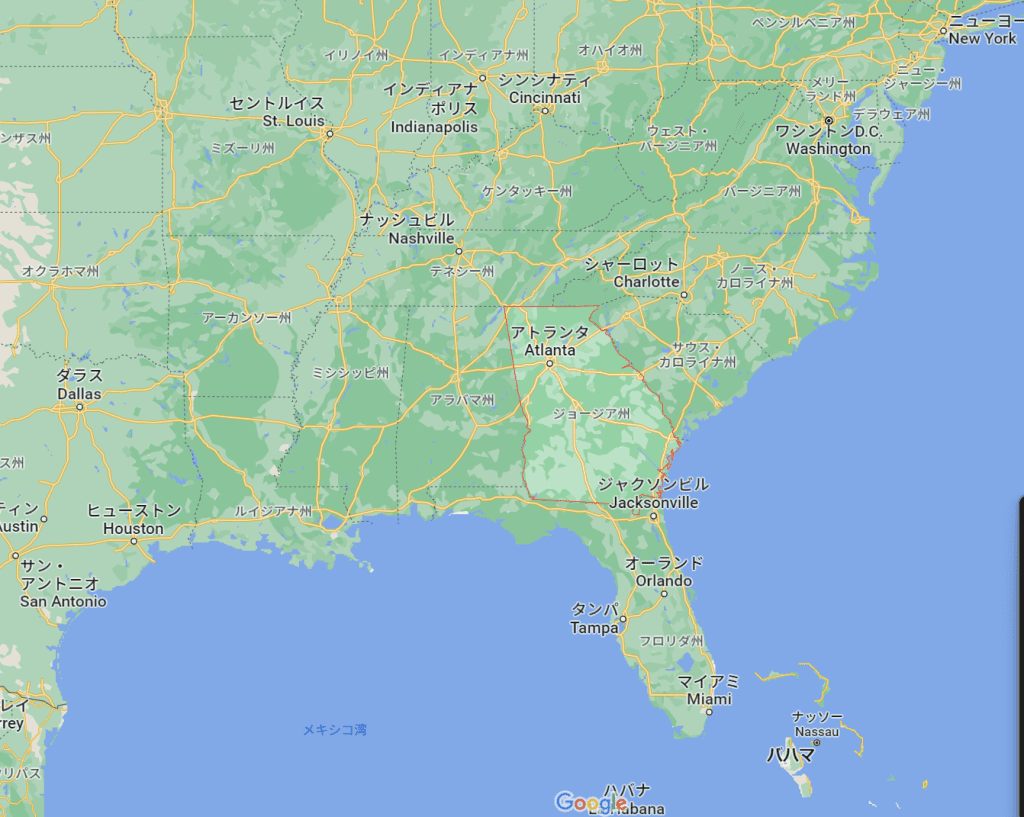 Cities of diverse races
In the past, it was a tremor of the Civil War between the South and the North, including Georgia, which supported slavery, and there is a dark history of continued racial discrimination, but now it does not feel such discrimination at all, but rather many. It is a unique city where races gather.
The proportion of blacks in Georgia is about 30%, which is a relatively high proportion in the United States. Atlanta is the birthplace of Martin Luther King Jr. and the center of the civil rights movement.
In addition, many Asians such as Koreans, Chinese, and Japanese live in northern Atlanta. Since many Japanese companies are expanding, many of them are stationed there, and they often pass each other in the city.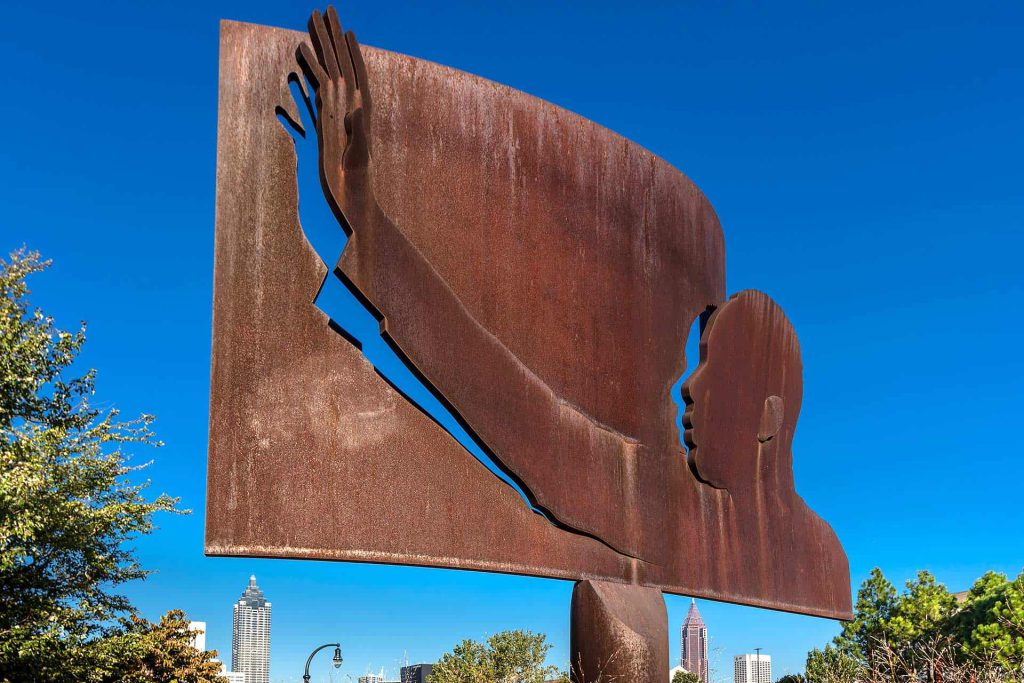 Security
Atlanta was once considered a relatively insecure city, but it is now improving. The living area is basically safe, and the area around Emory University is known to be safe. On the other hand, this is true not only in Atlanta but throughout the United States, but there are dangerous areas in some parts of the city, and minimum caution is required, such as avoiding walking alone at night.
According to the US News ranking, the number of crimes per 100,000 population in 2019 was 267.7, which is lower than the national average, and Houston and Chicago at the same time were 363.6 and 414.3, respectively. In addition, compared to New York and Los Angeles, the incidence of violent violent crimes (total of murder, rape, robbery, and assault) (calculated by correcting the number of cases / population by population difference) is calculated by correcting the population difference. 1.9 %、ロサンゼルスが1.3% , while Atlanta is 0.2% (Note: Since the source of the number of cases, the aggregation method, and the year are different, simple comparison is not possible. The correction data was calculated by the author based on the data released by the Japanese Consulate). ..
In addition, since there is a Japanese Consulate in Atlanta in Atlanta, there is an advantage that it is easy to ask the Japanese government for help in case of an emergency (Consulates are not located in all states, so when you do something, you usually cross the state. Must be visited at).
Medical, academia
Atlanta is also famous for health care. The Centers for Disease Control and Prevention (CDC), the command tower of Corona policy, is located in Atlanta, not Washington, and next to Emory University. In fact, many of Emory University's public health faculty have close ties to the CDC. Emory University itself is very famous for its medical school, and Emory Health, an affiliated hospital of Emory University, has a large number of hospitals. There are many children's hospitals, so there is almost no need to worry about medical treatment.
If you are uncertain about communication in English regarding medical treatment, you can rest assured that there are hospitals and dentistry run by Japanese doctors. Located in northern Atlanta, many Japanese are visiting the hospital.
In terms of universities, there is Georgia Tech, one of the most famous technical colleges in the United States. As one of our affiliated universities, you can also go to Georgia Tech for MBA courses.
Japanese food and culture
I don't have a problem with Japanese food. There are several Japanese food chains in Atlanta, and there are also many Japanese restaurants (ramen, izakaya, okonomiyaki, sushi, etc.) by Japanese owners or Asians who have a good understanding of Japanese culture. There are several supermarkets that handle Japanese ingredients, and although they are more expensive than Japan, they are easy to get. Since there are many pro-Japanese families in this area, many Japanese lovers often talk to me in the city and study Japanese.
There is also Round 1, which is familiar in Japan. You can enjoy karaoke, bowling, and arcade games in the same way as in Japan.
There is also a beauty salon run by a Japanese hairdresser. Of course, you can order in Japanese, and you can get services that match the hair quality of Japanese people, such as perms and colors. Many Japanese come to cut their hair from neighboring states such as Tennessee and North Carolina.
In terms of children's education, there are also Japanese kindergartens and elementary schools. In particular, children older than elementary school may be sent to a Japanese language supplementary school, but this is also located in Atlanta, so it is easy to access. Since there is only one Japanese language supplementary school in Atlanta, some families go to school from a great distance outside Atlanta.
Cost of living
Atlanta is no exception, as the entire United States is experiencing very severe inflation. A lot of Japanese people live around Emory University, and the range is about 1 bed 1 bath: 1300-2000 dollars / month, 2 beds 2 baths: 2000-3000 dollars / month.
Gasoline costs $ 3 to $ 3.5 / gallon, which is relatively cheap.
Compared to the west coast and the east coast, I think it is a big advantage to be able to live at a relatively low cost of living.
sightseeing
With the Atlanta Olympics being held, it is also a tourist city. Georgia Aquarium with the largest aquarium in the United States, Olympic Park, World of Coca Cola (Museum), Zoo, Botanical Garden, CNN and CDC Museum (Note: currently closed in Corona), Civil Rights Movement Museum, History Museum There are several attractions such as the Delta Aviation Museum, Stone Mountain, and the German village of Helen.
There are also multiple outlets near Atlanta where you can buy well-known brands for less than half the price. It's so big that it's hard to complete in Japan.
It has excellent access not only within Atlanta and Georgia, but also outside the state.
In terms of car trips, it's possible to go to Disney World for a long vacation as Orlando, Florida is near. You can also drive to New Orleans, Panama Beach City, and Miami.
Also, since Hartsfield-Jackson Atlanta International Airport is the base airport of Delta Air Lines, it is convenient because you can go to various parts of the United States by direct flight, and there is also a direct flight to Haneda Airport when you return to Japan.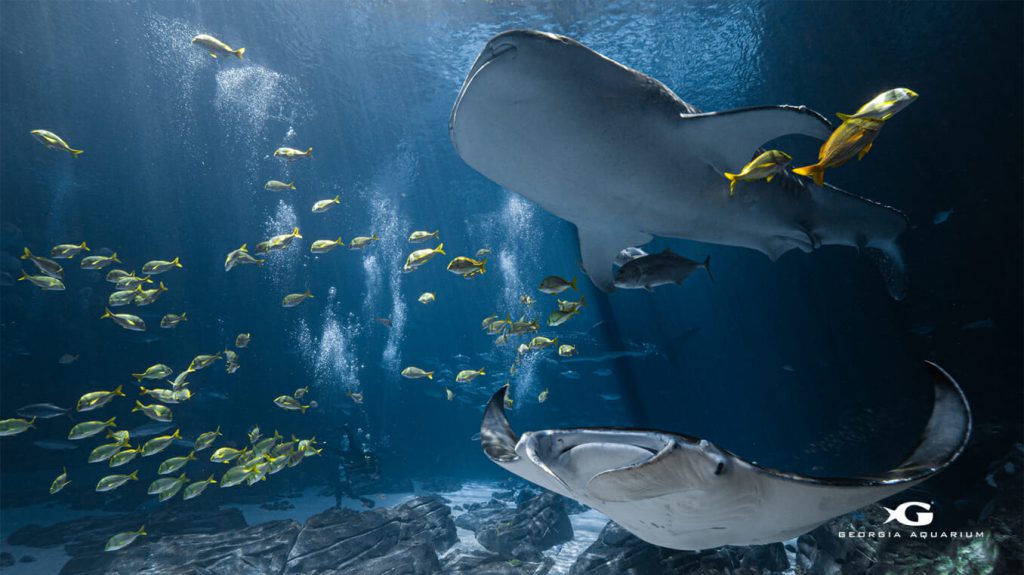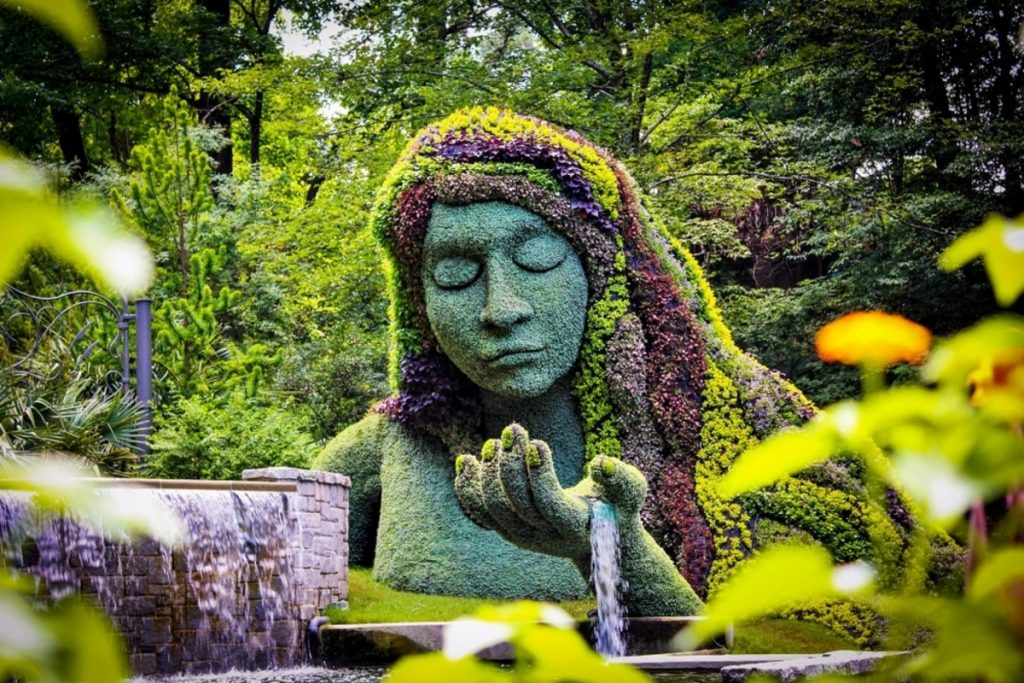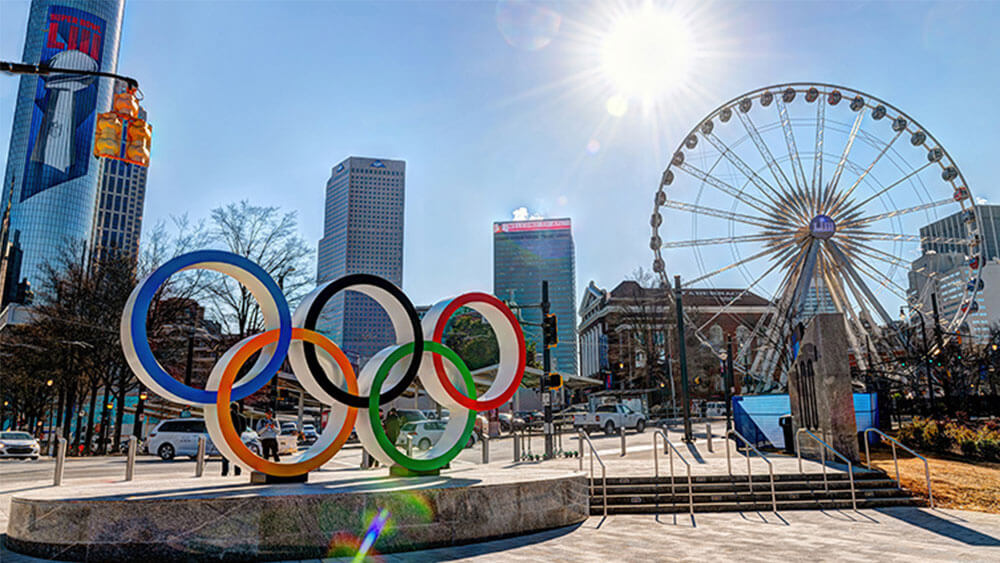 industry
Atlanta is home to some of the largest SP500 companies, including the headquarters of global companies such as Coca Cola, CNN, UPS and Delta Air Lines. In addition to the Midtown area, there are financial and commercial areas in the Backhead area, which are very prosperous.
It is unique in that there are many startups such as FinTech, and there is a circle of corporate support for minorities. By the way, I think that many people are worried about the area whether they can access startups in Boston and Silicon Valley, but now that remote development has developed, internships with companies in Silicon Valley and Boston while online in Atlanta. There are many people who are participating in the project, so it may not be necessary to worry too much about whether or not they are in the field.
Nature
Once in the suburbs, it is characterized by a very natural and peaceful environment. A 30-minute drive from Emory University, you'll see Stone Mountain, a huge monolithic mountain reminiscent of Australia's Ayers Rock, and the top overlooking the forested metropolis of Atlanta. In addition, hiking and lakes are nearby. The good thing about Atlanta is that it has a very good balance between the city and nature.