Goizueta Business School's 2-year Full-time MBA program is a four-semester system (one year and two semesters in spring / autumn). I will take Core). After the spring semester of the first year, select elective courses (Elective) according to the field you want to major in (Marketing, Finance, etc.). The 1-year Full-time MBA program focuses on core courses during the summer semester from May to August, and after September it joins the 2nd year of the 2-year Full-time MBA program, so it is a short period of one year. It is possible to obtain the same degree as the 2-year program at. In addition to the Full time MBA program mentioned above, our school offers programs such as Executive MBA and Evening MBA.
The curriculum has been changed and improved to reflect student feedback, and the professors and program offices can flexibly respond by taking advantage of the small school.
All lessons are 75 minutes per class (90 minutes for compulsory subjects), and 2 classes per subject are normal per week. Regular classes are held on Mondays / Wednesdays or Tuesdays / Thursdays at the same time, but some classes, such as the Evening program, are held only once a week for two consecutive classes.
It is also possible to obtain Joint Degree (multiple degrees), and Goizueta Business School has programs in partnership with Law School, Public Health, etc. In addition, regardless of whether you belong to the 2-year Full-time MBA or the 1-year Full-time MBA, you can receive STEM certification by taking the designated courses.
Below are some of the characteristic programs of Goizueta Business School. All are common to 2-year Full-time MBA and 1-year Full-time MBA.
IMPACT360
Goizueta Business School's leading Hands-on consulting project that solves the marketing and strategy problems of real companies, and is a historic program that started in 1991. A team of 5-6 students will be assigned to the sponsoring companies of about 10 companies, and will make strategic proposals under the guidance of professors and second-year advisors. Students are required to do multifaceted analysis to solve problems. In the presentation, not only the final report but also the interim report will be given to the client company, and the project will proceed while determining the client's expectations as in the actual business. Students will learn comprehensive marketing skills through workshops, team meetings, advice from professors and consulting firms, and regular meetings with client companies in various fields. Leadership skills such as how to organize a team in an urgent situation will also be required.
Goizueta Advanced Leadership Academy (GALA)
The Goizueta Advanced Leadership Academy (GALA) is also one of Goizueta's leading programs. This program aims to go further from the content of Leadership Development and to understand and develop one's leadership through more concrete and practical work. There are individual executive coaching sessions, guest speaker sessions, mentoring exercises for first graders, etc., but the highlight is the teamwork task called Capstone Experience. It's a very unique experience of sailing a yacht with your teammates for 5 days day and night, and it's a valuable experience to deepen your understanding and develop your leadership mind and skills in harsh conditions. I can.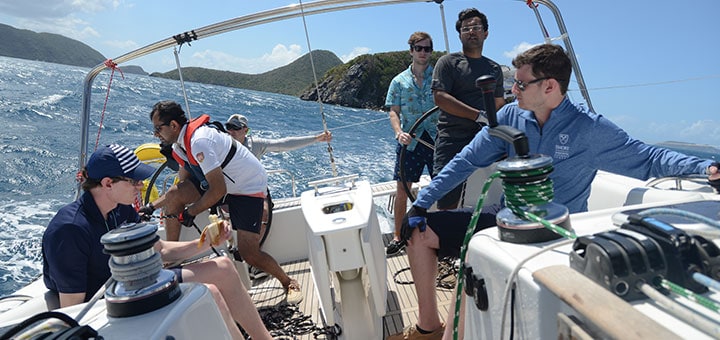 Directed Study
Students study topics of interest with the support of a professor, and credits are awarded for their achievements. Students can freely set research topics. Students can gain a deeper understanding of a particular field through one semester by negotiating directly with the professor to become an academic advisor and studying a particular field with the help of the professor. For example, if you are interested in dynamic pricing in a pricing topic, you can get an overview of dynamic pricing by taking a pricing strategy course. Then, by having a professor who specializes in price theory become an instructor and specializing in dynamic pricing in the Directed Study, for example, a cross-sectional survey of application cases in public transportation in each country will be conducted and whether or not it can be applied to a specific market. You can study and so on.
Taking courses offered at other graduate schools
If you have a topic that you are interested in but Goizueta Business School does not have a class that you can learn, you can take classes at other graduate schools and count them as Goizueta Business School graduation credits. Other graduate schools include Law School and Public Health within Emory University, and Georgia Tech outside Emory University. For example, how can we reflect what we have learned in Goizueta Business School in contracts in actual commerce? If you want to learn, you can cover it by taking Law School's Drafting Contracts.
PMEL & Orientation
One of the features of Goizueta Business School is that PMEL (Pre-MBA English Language Program), which is an English language training in advance, is essential for many Japanese students. The admission office decides whether or not to participate, but basically it is for students who are from non-English speaking countries and whose experience of living in English speaking countries does not meet certain conditions. The venue will be on the Emory campus, but the instructors will be the Georgia Tech University Language Institute, renowned for its Language education. About 20-25 people participate in PMEL every year, and the country of origin varies depending on the year of participation, such as Japan, South Korea, and Mexico, but I get the impression that there are many Japanese and Koreans. Japanese students who have no experience living in English-speaking countries will travel to the United States at the start of this PMEL course. It will be a busy day because you will be taking classes while starting your life, but since you will spend time together in a small class, it will be easy for PMEL participants to develop a sense of fellowship, and it is good to build a global network. It will be an opportunity. In addition, PMEL will hold a mock lesson by a famous Goizueta Business School professor, and you can experience the same lesson as the actual one before the MBA starts. There is also a cold call (the professor listens to the students' views by name), which makes me realize the rigor of the MBA class, which is also a good experience.
After PMEL, there will be an orientation for international students (including those living in English-speaking countries) and an overall orientation including American students. It covers a wide range of activities, from basic things such as introducing the contents of the MBA program and introducing facilities on campus to activities aimed at Team Building. During the orientation, the Core team will be announced with the first semester. The basic pattern is that the number of members of the team is 5 to 6, the nationality is 3 to 4 Americans, and 1 to 2 international students. It is configured so that the background such as Finance and Marketing is not biased. In the latter half of the orientation, various activities will be carried out in team units over a day at the facility in the US military base. This event will enhance the team's sense of distance and cohesion, and will be involved in this MBA program.