Torrealba: Far East expedition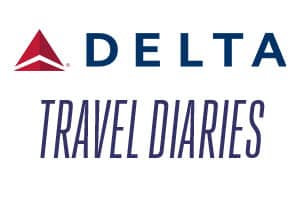 Last semester, when Mid-Semester Module destinations were revealed, I was 100 percent sure that I was not going to go on an MSM again, mainly because of the high cost. Then, the Delta Air Lines MSM Competition was announced and, even though I never thought I would win, I gave it a try because I had nothing to lose! I was very fortunate to win the competition, along with seven other classmates, and therefore get significant help in covering the trip expenses. I cannot thank Delta enough because, without this competition (and prize), I would have missed one of the best trips of my life (even though the bar was set very high)!
I chose Japan as my destination primarily because of my interest in high tech and entrepreneurship. No other country can claim Japan's leadership in the tech industry and I wanted to go there to learn first-hand from the pioneers. In addition to this, I had always wanted to visit the country and many of my friends were also going. Finally, Japan was the only trip with local classmates as planners, which seemed like a unique opportunity to dig into the culture and make the most out of the experience. Therefore, the decision was very easy.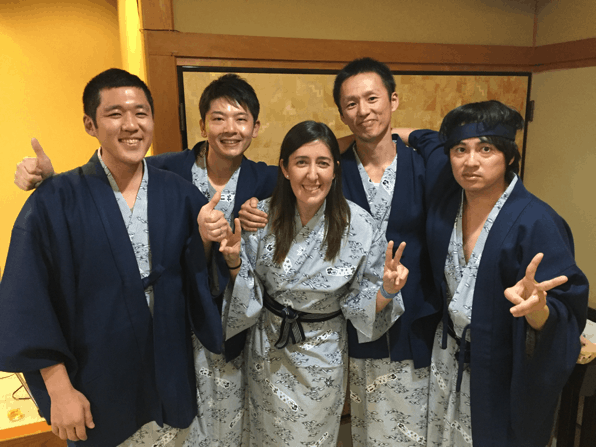 Speaking about the trip planners, Rio, Makoto, Daisuke and Koji were our wonderful guides. They were incredible and they not only put a tremendous effort into planning an amazing trip but also executed it perfectly. Before kicking off the trip, they created a 60-page handbook with relevant information including schedules, addresses, emergency contacts and useful English/Japanese translations. Throughout the trip they were strict but fun. They were kind and extremely patient to take care of almost 30 of us. For the sake of business, these guys are rockstars in their respective industries with very impressive contacts, so they managed to take us to amazing companies, allowing us to learn how business is done in Japan, from handcraft startups to multi-national firms like Sony.
My two favorite company visits were completely opposites. On one end, Seven Dreamers are "the technologists creating what the world has never seen." Their CEO, Shin Sakane received us in his office in Tokyo and showed us their top three products that were conceived with the goal of "improving people's lifestyle." And sure they do. First Nastent, a nasal device that helps breathing while sleeping and prevents snoring. Second, a carbon golf shaft with unprecedented precision. And finally, Laundroid, the world's first laundry folding bot. I had read about this product even before learning about the trip and I was so excited that someone was working with such a cool idea. It was incredible to be there and learn how they have been developing the product for over 10 years and how there is still a long way to go to make it perfect. The company is set to launch the first version this year. Sadly, as much as I would love to get one for myself, and even though Sakane did not reveal the price, I got enough hints to know that it will be out of reach for me, so I must wait longer to be lazy when folding clothes.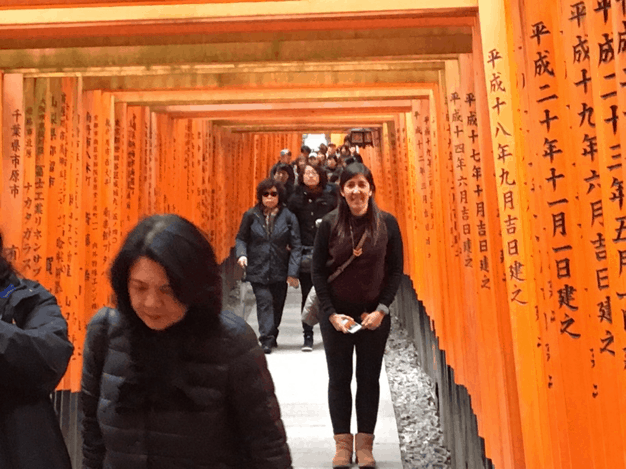 On the other end, we visited Fu-Ka, a leading supplier of Namafu (wheat gluten used for Japanese haute cuisine and Zen meal), with more than 200 years of history as a royal warrant supplier. The CEO, Shuichiro Kobori, received us at his factory in Kyoto and showed us their operations, using one of our guides as a translator. We learned about the details that contribute to the perfection of the products, such as using Kyoto's high quality tap water that comes from the mountains. Our favorite part, as a contradiction to being MBA students, is that Kobori's goal is not to make money; his goal is to maintain a Japanese tradition for many more years. Therefore, he is not willing to pursue strategies such as advertising to expand the business.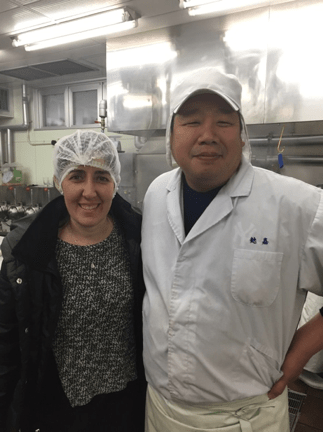 Fu-Ka and many other experiences made me fall in love with Japanese culture and its people. Japanese people are so considerate that they use masks when they are sick to prevent other people from getting sick. They are so friendly that if you ask for directions they would come with you to show you the way until you reach your destination. They are so kind that when some of us were running late to catch a flight and we were having a hard time finding a taxi, someone saw our desperation and drove us for free to the airport. They are so honest that members of my trip lost a phone, a camera and a portable WiFi, and we found all of them. Someone even shipped the camera to a different city because we had already left the city where we lost it. They are so honest that last year, $32.7 million in cash was given to a lost and found department.  Coming from Caracas, Venezuela, one of the most dangerous cities in the world, Japan is the closest to heaven I have ever been when it comes to honesty, kindness and correctness.
Finally, I want to speak about how I strengthened my friendships and made new friends by being together approximately 20/7 during three wonderful weeks (yes, we had very little sleep). We shared so many cool experiences that we will never forget. We visited countless shrines, we learned how to pray, we made wishes and we had our fates predicted. We ate delicious food while comfortably sitting on the floor. I absolutely loved the food and learned that Japanese food is much more than sushi. We wore Kimonos for a full day. We even went to a night club wearing Kimonos and I got my hair done at the club. We sang at the coolest karaoke places — some even lost their voices. We had dinner with Geishas and understood the difference between Geiko and Maiko. We skied in the beautiful mountains of Hakuba and Sapporo where the Winter Olympic Games have been held. We were shocked with devastating stories at the Peace Memorial Museum in Hiroshima. We talked to robots. We stayed at a Ryokan, a Japanese traditional lodge without beds. We had the Onsen experience. We did a whisky tasting at Suntory Yamazaki distillery. We had sake, soju, plum wine, and local beer. We fell in love with Golden Gai, an amazing area with tiny little bars and amazing people. We petted and fed deer in Nara (and also got bitten by them)! We went to a maid cafe and an owl cafe. We traveled Japan on the "Shinkansen" or bullet train at 180 m.p.h. We laughed and we cried (out of laughter). I am so grateful for having had such an amazing experience with such amazing people. I and can only finish by saying doumo arigatou gozaimasu!